New Study Identifies Holiday Activities That Elevate Safety Risks
---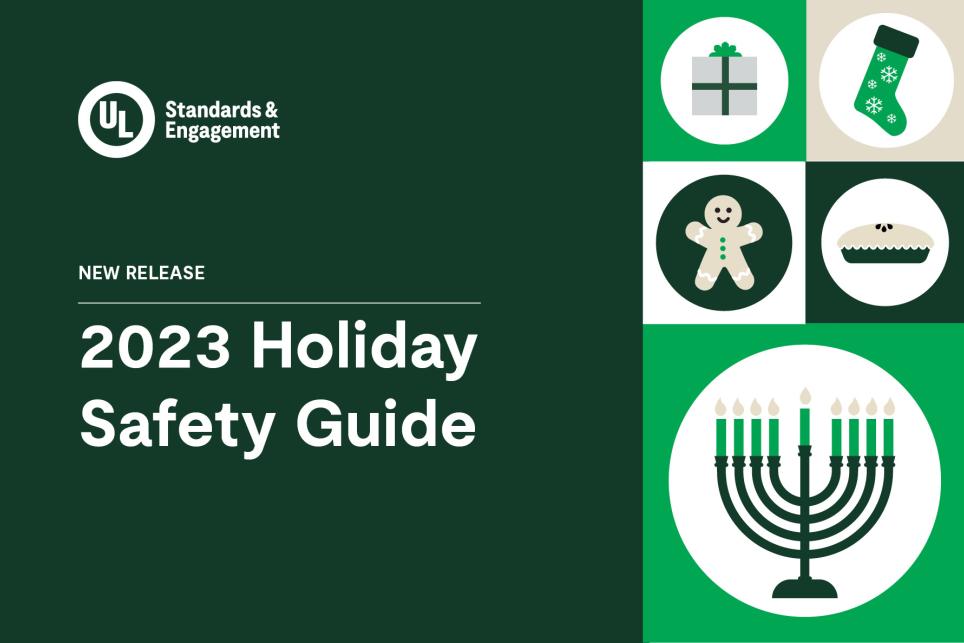 Washington, D.C. – Today, UL Standards & Engagement released its 2023 Holiday Safety Guide. The inaugural guide showcases results from a ULSE study of 2,016 U.S. adults that revealed an alarming lack of awareness around key safety issues that become pronounced with the increased and changed activities during the holiday season.
"As we engage in more and different activities around the holidays, we open ourselves to elevated risk, as evidenced by the increase in ER trips and fires during the holidays," said Dr. David Steel, executive director of ULSE. "To help mitigate that risk, we are applying more than a century of safety expertise to recommendations that will make the holiday season memorable, for all the right reasons."
The guide reviews four areas where activities change the most during the holidays: traveling; cooking; decorating; and gifting. The safety advice put forward is based on 120 years of experience developing standards and focused on areas of concern revealed in ULSE's new study.
Key findings include: 
Traveling: Holiday travelers who are flying may be unaware of thermal runaway risk from the devices they bring on planes and those staying in hotels and rental properties are making dangerous assumptions about carbon monoxide protection.
Cooking: Many holiday cooks do not have carbon monoxide alarms or a fire extinguisher in the kitchen area.
Decorating: While most holiday decorators admit they inspect lights and power cords for damage, more than half admit to plugging multiple power strips or extension cords together.
Gifting: Gift buyers are motivated by a product's price by a much larger margin than those who say they want to choose gifts that meet safety standards.   
Traveling
More than 91 million Americans say they typically travel during the holiday season, but those traveling by plane are unaware of a growing risk. An August 2023 ULSE study of U.S. adults found that 97% of air travelers have at least one device powered by rechargeable lithium-ion batteries with them when they fly, yet many of those travelers are unaware of the risks of thermal runaway if these batteries overheat.
"Incidents of thermal runaway on planes are extremely rare; they are also largely avoidable," said David Wroth, director of technology & systems and head of the Thermal Runaway Incident Program. "The best step travelers can take is to listen to the guidance of the airline cabin crew, ensure products powered by rechargeable batteries are never in checked luggage and always kept within reach, allowing for early warning and quick action if devices overheat."
The August study, however, found a concerning number of flyers who admit to putting rechargeable items in checked luggage, including 26% of passengers who said they check their power banks and portable chargers.
When holiday travelers arrive at their destination, the majority (63%) of those staying in hotels or rental properties are not concerned about carbon monoxide poisoning, despite several deaths reported in recent years. Further, there is a strong assumption of protection, particularly in more upscale hotels, where 67% say they do not worry about exposure because they assume the property has a carbon monoxide alarm installed. The numbers are only slightly lower for economy and mid-scale hotel chains (63%) and for rental property platforms like Airbnb or VRBO (58%). Only 14 states require carbon monoxide alarms in hotels.
Cooking
Cooking fires are dramatically more likely during the holidays, with the National Fire Protection Association reporting a 240% increase in the daily average on Thanksgiving, a 72% increase on Christmas Eve, and a 71% increase on Christmas Day.
Only 29% of the holiday cooks in ULSE's study reported testing their smoke alarms monthly, as experts recommend. Nearly one-third (31%) do not have a fire extinguisher in the kitchen area. Further, a majority (52%) do not have a carbon monoxide alarm near the kitchen.
"Working smoke and carbon monoxide alarms can save your life," said Diane Haithcock, director of standards programs. "At a busy time of year when fires happen more often, take precautions by testing alarms and having a fire extinguisher handy."
Decorating
The ULSE study found that 161 million Americans typically decorate their homes with lights, trees, menorahs and more. Our survey showed that 80% inspect lights for broken sockets, frayed wires, or loose connections, 77% ensure outdoor lights are plugged into weatherproof GFCI outlets, and 74% check that their outside lighted decorations are certified for outdoor use. But more than half (54%) admitted to plugging multiple power strips or extension cords together to connect their lighted decorations, which can cause an electrical fire.
Among holiday decorators who display a Christmas tree, 84% say they decorate using an artificial tree, yet more than half (52%) of those respondents said they did not check to see if their tree had a "fire resistant" label.
"When buying new holiday decorations, give yourself greater peace of mind by choosing products that conform to safety standards," said Deb Prince, director of standards programs. "Once it's time to deck the halls, do not overload outlets, string together too many light strands or cords, and be sure to take a moment to check for damage before you plug anything in."
Gifting
More than three-quarters (76%) of U.S. adults say they typically purchase holiday gifts. The strongest motivator for these shoppers is price (85%), followed by a desire to purchase from well-known retailers (79%) or well-known brands (75%). Far fewer say they prefer to buy gifts based on whether they meet safety standards (64%).  
For the 83% of gift buyers who plan to purchase an electronic gift powered by rechargeable batteries, it's important to be aware of lithium-ion battery safety standards that are designed to limit the consequences of thermal runaway. For the 35% of gift buyers who have a child six years or younger on their lists, standards that strengthen battery enclosures and ultimately prevent the accidental ingestion of coin and button cell batteries can save lives.  
"Our work at UL Standards & Engagement touches many of the top gifts Americans plan to buy this year and the festive plans they have for the season," added Steel. "The time spent taking reasonable steps to mitigate harm can ensure those behavioral changes can be made with confidence in safety."  
Read the full guide here.   
Methodology: The UL Standards & Engagement inaugural holiday study measured consumer understanding, behavior, and sentiment across four thematic areas related to the U.S. fall and winter holiday season – seasonal decorations, preparing holiday meals, gifting, and holiday travel. This nationally representative survey of 2,016 U.S. adults was designed by ULSE and conducted online by BV Insights between October 6-8, 2023. The margin of sampling error at 95% confidence for aggregate results is +/- 2.2%. 
About UL Standards & Engagement
UL Standards & Engagement is a nonprofit organization that translates safety science into action through standards development, partnerships and advocacy. Since 1903, we have developed nearly 1,700 standards and guidance documents for products ranging from fire doors to autonomous vehicles. ULSE enables innovation and grows trust by convening experts and informing policymakers and regulators as we work toward a safer, more secure and sustainable future. Visit ulse.org for more information.
Contacts
Catie Talenti
UL Standards & Engagement
Senior Strategic Communications Specialist
P: (607) 742-8766
catie.talenti@ul.org