Celebrating World Standards Day
---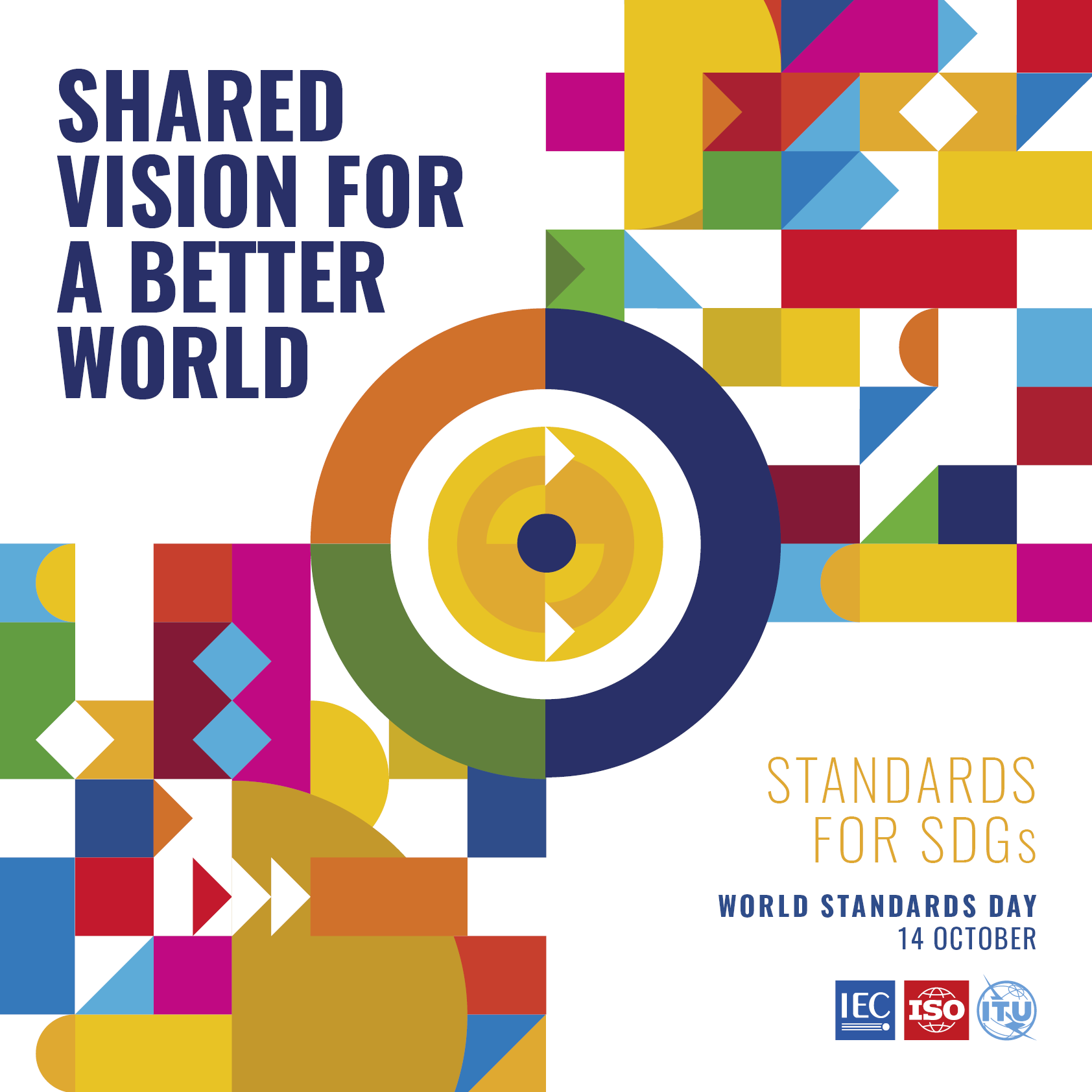 On Oct. 14, 2022, UL Standards & Engagement celebrates World Standards Day, an annual event organized by the International Electrotechnical Commission (IEC), International Organization for Standardization (ISO), and the International Telecommunication Union (ITU). The event is dedicated to the collaborative efforts of experts who work to make the world safer through the development of international standards. This year's theme, "Shared Vision for a Better World," focuses on the role international standards play in helping to achieve the United Nations (U.N.) Sustainable Development Goals (SDGs) for 2030. 
The UN Sustainable Development Goals
The 17 goals extend from the U.N. 2030 Agenda for Sustainable Development, which was adopted by all U.N. member states in 2015. The goals outline a shared blueprint for helping to make the world a safer and more sustainable place. They include ending poverty and hunger, as well as promoting health, education, and gender equality. They also incorporate providing access to clean water and sanitation, affordable and clean energy, and productive work and employment. Additionally, the goals cover building sustainable infrastructure and cities, ensuring sustainable consumption and production, taking action to combat climate change, and protecting life on land and underwater through conservation and sustainable resource management.
Although the SDGs were just outlined within the last decade, they align with UL Standards & Engagement's longstanding mission of working for a safer world – a goal our organization has followed since its founding in 1894. In partnering with international organizations and government bodies through our collaborative memoranda of understanding (MOU) agreements, we pursue the U.N. SDGs by developing and promoting safety and sustainability standards internationally.
Working to help meet the SDGs in 2022
Our ongoing work includes formalizing several agreements this past year with our MOU partners. Currently, we hold 75 MOU agreements with organizations around the world, two of which were signed in 2022 with the Fire & Security Association of India and the Rwanda Standards Board.
We regularly organize virtual and in-person events with our international partners to share knowledge and research, while also discussing standards-based solutions for important issues. In July, we held a webinar with the Confederation of Indian Industry Institute of Quality (CII-IQ) to discuss the role of standards in helping to advance a circular economy model for global sustainability and international trade, which contributes to SDG 11, Sustainable Cities and Communities. We also held our Fire Safety Congress in Mexico City on Oct. 6-7 to discuss how fire safety standards, strategies, and research can be tailored to help improve safety and quality of life in Latin America, which contributes to SDG 3, Good Health and Well-Being.
In August, Executive Director Dr. David Steel signed the Declaration for Gender-Responsive Standards and Standards Development from the United Nations Economic Commission for Europe (UNECE) at the 71st SES Annual Conference hosted by SES, The Society for Standards Professionals. In signing, our organization highlights its commitment to SDG 5, Gender Equality, by creating gender-responsive standards and achieving greater gender balance, representation, and inclusion in our standards development process.
Dr. Steel also presented in August at the 2022 U.S.-Korea Standards Forum, organized by the American National Standards Institute (ANSI) and the Korean Agency for Technology and Standards (KATS) held in Washington D.C. In his presentation, Dr. Steel discussed how UL standards can help promote clean energy technology and create a sustainable pathway to achieve net zero carbon emissions globally, contributing to SDG 13, Climate Action. 
Related events
On Oct. 10-13, we attended the American National Standards Institute (ANSI) World Standards Week conference in Washington, D.C., alongside standards professionals from organizations across the country. David Wroth, director of data science, and Andrew Kapp, research manager, participated in a panel discussion at the conference on measuring the health and safety impacts of voluntary consensus standards. 
On Oct. 19, we will co-sponsor a webinar with the American Society of Safety Professionals (ASSP) on how organizations can help mitigate the occupational and business risks of battery energy storage systems (BESS).
On Oct. 24, we will host our inaugural Fire Safety Standards Summit (FS3) in-person at our office in Research Triangle Park, North Carolina. Fire service personnel at all levels are invited to register and attend this in-person event to learn about UL safety standards, the UL standards development process, and the unique role that fire service experts fill as members of our Technical Committees (TCs).
 
Please register for our upcoming events and be sure to follow UL Standards & Engagement on LinkedIn and Twitter to keep up with our ongoing standards development news and activities throughout the year. If you would like to get involved in standards development, apply to join a technical committee or submit a proposal on our Collaborative Standards Development System (CSDS).