Collaborating to Achieve International Standards Cooperation
August 25, 2022
Circular Economy Workshop Highlights Standards Solutions for Sustainability in India
---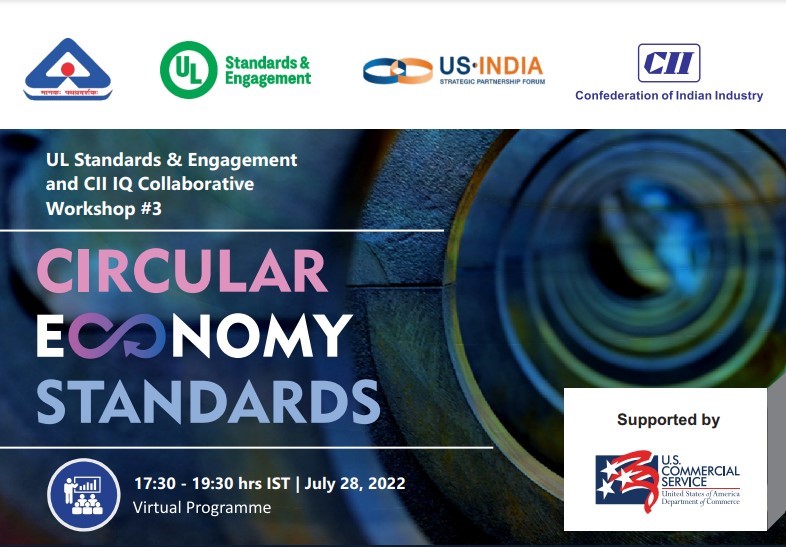 UL Standards & Engagement and the Confederation of Indian Industries (CII) recently held the third installment of the joint workshop series, Circular Economy – An Enabler for a Safe, Secure and Sustainable World. The series is uniquely designed to provide a phased approach to help India evolve its strategies and standards for the effective implementation of a circular economy – one which prioritizes sustainability practices such as eliminating waste, reusing materials, and regenerating natural resources.
The latest session, "Circular Economy Standards," featured presentations and discussion on standards for the measurement of circularity, including UL 3600, the Outline of Investigation for Measuring and Reporting Circular Economy Aspects of Products, Sites and Organizations, which is in development for publication as a consensus standard. Speakers included experts from the UL enterprise, the International Organization for Standardization (ISO), and the Bureau of Indian Standards (BIS).
Shri Sanjay Pant, deputy director general of the Bureau of Indian Standards (BIS), delivered the keynote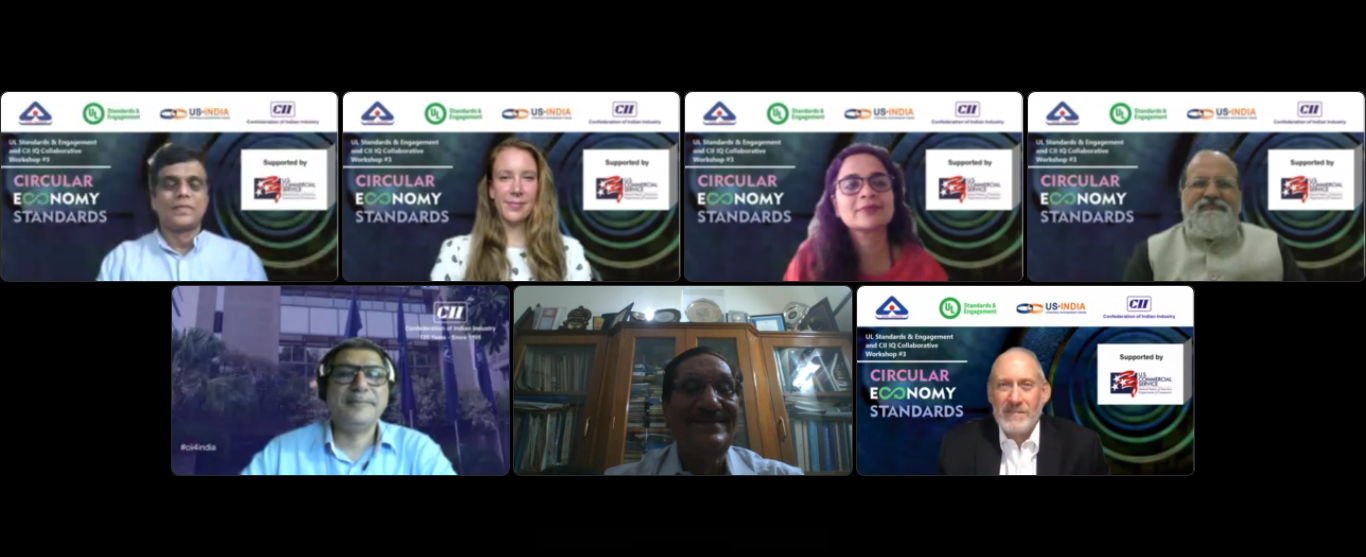 address and presented on BIS standards that are supporting circularity in India. He also discussed the positive benefit that circular economy concepts can have on products in the initial stages of design and conceptualization.
Catherine Chevauchè, chair of ISO TC 323 Circular Economy, presented on the ISO approach to circular economy standards, which includes four elements: "Terminology, principles and guidance for implementation," "Guidance on the transition of business models and value networks," "Measuring and assessing circularity," and "Product Circularity Data Sheet." 
Dr. William Hoffman, senior scientist at UL Solutions, presented on a holistic approach to measuring circularity, which involves three spheres of measurement. The first sphere considers company-owned offices, distribution, and sub-manufacturing. The second sphere considers manufacturing and suppliers, and the third sphere takes the full product lifecycle into consideration. 
Dr. S. K. Sharma, BIS chair of sectional committee CHD 34, presented on India's approach to circularity, the eco mark program of BIS, and various standards being developed to support circularity. Importance of considering micro-, small, and medium-sized enterprises (MSMEs) was stressed upon during the presentation, as well as how the Indian standard addressed these MSMEs. 
More than 100 participants attended the workshop, moderated by V. Manjunath, UL Standards & Engagement regional manager. Previous workshops in the series included an introduction to circular economy, and a session on strategies for the effective implementation of circular economy. The workshop series is supported by BIS, the US-India Strategic Partnership Forum (USISPF), and the U.S. Commercial Service.