Researchers, Scholars, and Leaders to Convene for Second Anti-Counterfeiting Virtual Research Symposium
---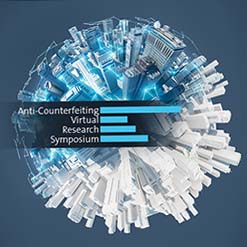 Underwriters Laboratories is pleased to announce that the second Anti-Counterfeiting Virtual Research Symposium will be held on Nov. 17, 2021. The symposium will convene prominent researchers, scholars, and leaders in the field of anti-counterfeiting to discuss relevant research and address the health and safety hazards posed by counterfeit products. This virtual event will consist of presentations and panel discussions on two topics: Environmental Effects of Counterfeiting and Counterfeit Products and Social Media.
"The positive reaction to last year's inaugural virtual symposium convinced us to hold a symposium again this year. In the interest of public safety, we want to continue encouraging new research and collaboration on anti-counterfeiting as it relates to different safety science topics," said Underwriters Laboratories President and CEO Terrence Brady.
 
For this event, we are partnering with academic and professional organizations, including University of Trento, American Apparel and Footwear Association, and React. Speakers will share their findings and insights, followed by in-depth panel discussions with members of the public and private sectors.
Featured speakers: 
Ronald Brohm, REACT
Gabriele Baratto, Ph.D., University of Trento 
Christina Mitropoulos, American Apparel and Footwear Association
For over 25 years, Underwriters Laboratories has been committed to supporting global anti-counterfeiting initiatives as part of its mission "to make the world a safer place." We continue to raise awareness of the significant danger of counterfeit goods and strengthen our communities to promote safety worldwide. The crime of counterfeiting is not a victimless crime—it poses serious health and safety risks to society.