Helping Students Gain Professional Skills in a Real Workplace
June 3, 2022
Hear from a Graduate of the Program
---
Editor's note: During the 2021-2022 school year, Cristo Rey St. Martin College Prep senior Stacy Matute worked with the Anti-Counterfeiting team at UL Standards & Engagement. In honor of her graduation, we invited her to reflect on her time with us and share her thoughts.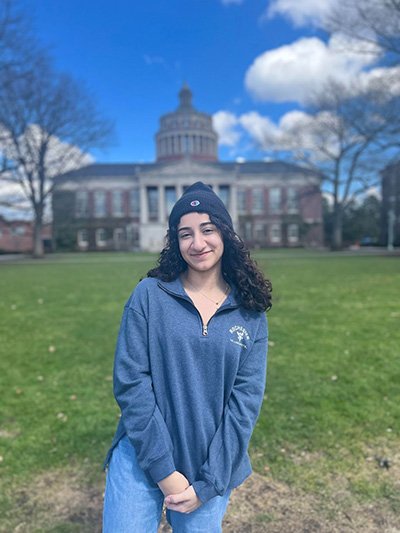 My name is Stacy and I am a graduating senior at Cristo Rey St. Martin in Waukegan. I've made many memories during this journey that have shaped me to who I am. After four years of high school and being here at Underwriters Laboratories, it is bittersweet to think that I will move onto other things in life. Without Cristo Rey St. Martin, I would not have had the opportunity to be here and be able to work with the amazing people and work alongside my supervisors who are always there to support me.
My time here at Underwriters Laboratories has been nothing but the best and I will always be grateful for every opportunity that I have been given. When I first started working, I didn't expect for me to grow as a professional. I have enjoyed all the projects and people I have worked with. I was very shy and timid, but I slowly grew out of that shell and opened up more. Everyone has shown so much patience with me as I learned new things every day at such a young age. 
As my graduation arrives, it is crazy to believe that many things in my life will change soon. I will move away from home as I will be attending the University of Rochester in New York with a plan to major in psychology. Moving away from everything won't be an easy thing to do, but if I believe in myself I know I will have success these next few years. I will always hold a place in my heart for Cristo Rey and Underwriters Laboratories as it will be a factor to who I am as a person. I am excited to see where the future takes me and where I'll end up along with what Underwriters Laboratories will do as well. 

We here at UL Standards & Engagement would like to congratulate Stacy on her graduation and thank her for all her hard work this year. She is well on her way toward a bright and accomplished future. Stacy's many talents will take her far, but she can always count on the professional connections and friendships she made at Underwriters Laboratories to be there wherever she goes. Congratulations, Stacy! You will be missed!