ULSE Engineering Team Members Honored at Black Engineer of the Year Awards
---
On Feb. 10, at the 37th Black Engineer of the Year Awards (BEYA) STEM Conference in National Harbor, Md., UL Standards & Engagement (ULSE) Standards Engineering Program Manager Denice Durrant and Senior Project Engineer Wil Fletcher both received 2023 Modern-Day Technology Leaders awards. The Modern-Day Technology Leader Awards are presented as part of the BEYA STEM Outstanding Achievement Award (OAA) category. In presenting these awards, BEYA recognizes individuals in the workforce who are shaping the future of engineering, science, and technology. Nominees for the awards are reviewed and selected by a panel of leaders from industry, government, and academia.
Denice Durrant
As Standards Engineering Program Manager, Denice Durrant oversees the Engineering team and serves as a technical advisor for requirements in development for new and emerging technologies. She identifies opportunities to partner with other technical organizations and helps ensure the technical relevance of UL standards. She also has more direct responsibility for the technical content and positive impact of our standards. In 2021, Durrant pioneered the development of the ULSE Virtual Community, which allows users to learn about the influence of UL standards on everyday life by exploring a dynamic cityscape scenario with clickable icons and informative flyout text boxes. In 2022, Durrant was included on the Society of Women Engineers' (SWE) annual list of "Women Engineers You Should Know." In addition, Durrant volunteers in outreach activities with SWE and the National Society of Black Engineers to help K-12 and college students understand the career possibilities and opportunities in STEM. She holds a Bachelor of Science and Master of Science in Materials Science & Engineering from North Carolina State University, and a Doctor of Engineering in Systems Engineering from George Washington University.
Wil Fletcher
As a Senior Project Engineer, Wil Fletcher serves as a technical lead for fire-related UL and ULC standards, and provides technical support to American and international staff in fire protection. He recently helped coordinate ULSE's inaugural Fire Safety Standards Summit (FS3) in October 2022, and he has published several articles on standards for fire safety, including "Drones in Fire Safety and Emergency Response," in the December 2021 issue of Standards Engineering: The Journal of the Society of Standards Professionals (SES). Prior to joining ULSE, Fletcher served as a career firefighter for more than 10 years, ascending to the rank of chief officer. He also worked with NASA to help develop the calibration method for explosion detection devices used within mass transpiration screening. Fletcher is a member of the American Chemical Society (ACS), the National Fire Protection Association (NFPA), the International Association of Arson Investigators (IAAI), the North Carolina State Firefighters' Association, and the Durham Local Emergency Planning Committee. He holds a Bachelor of Science in Chemistry and Fire Science as well as Electrical Engineering Technology.
The BEYA STEM Conference
The BEYA STEM Conference is an annual, three-day event that incorporates learning, networking, celebrating excellence, and showcasing STEM career opportunities. Each year, the conference hosts college-bound K-12 students, college students, professionals from private industry, government employees, and military professionals. The conference includes a career fair, awards ceremony, and a series of training seminars and workshops.
---
Related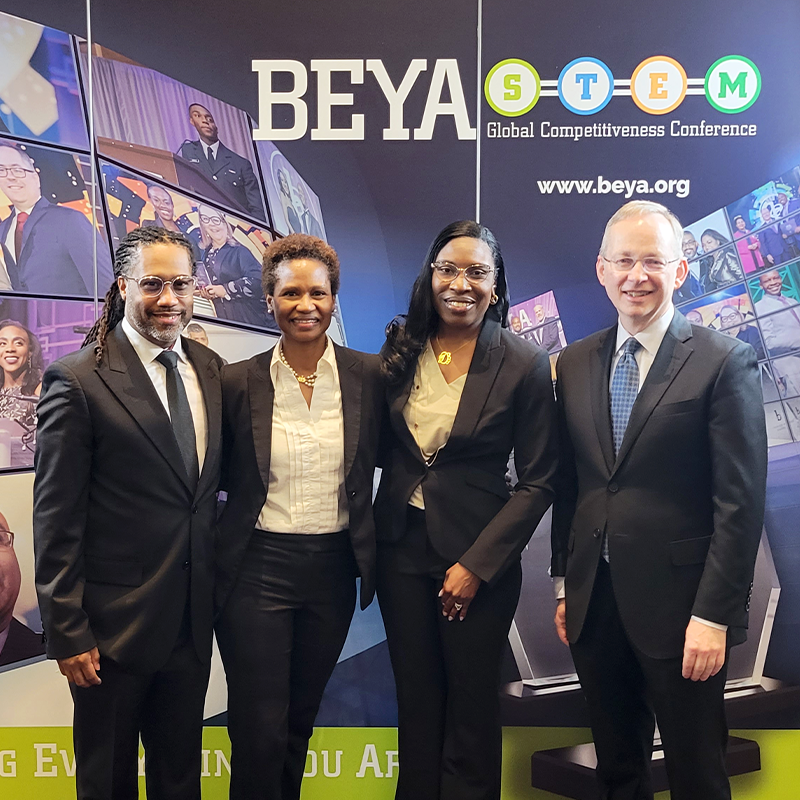 Charlotte M. Farmer, senior vice president and chief operating officer at UL Research Institutes, who also received the Black Engineer of the Year Modern-Day Technology Leader award in 2015, was inducted into the BEYA Hall of Fame on Feb. 3 during the BEYA Metaquake Symposium in Washington, D.C. Farmer joined Wil Fletcher, Denice Durant, and David G. Steel, executive director of ULSE, at the event.
---