Supporting a Safe and Sustainable Transition to E-Mobility: The 2023 LATAM Battery Safety Summit
---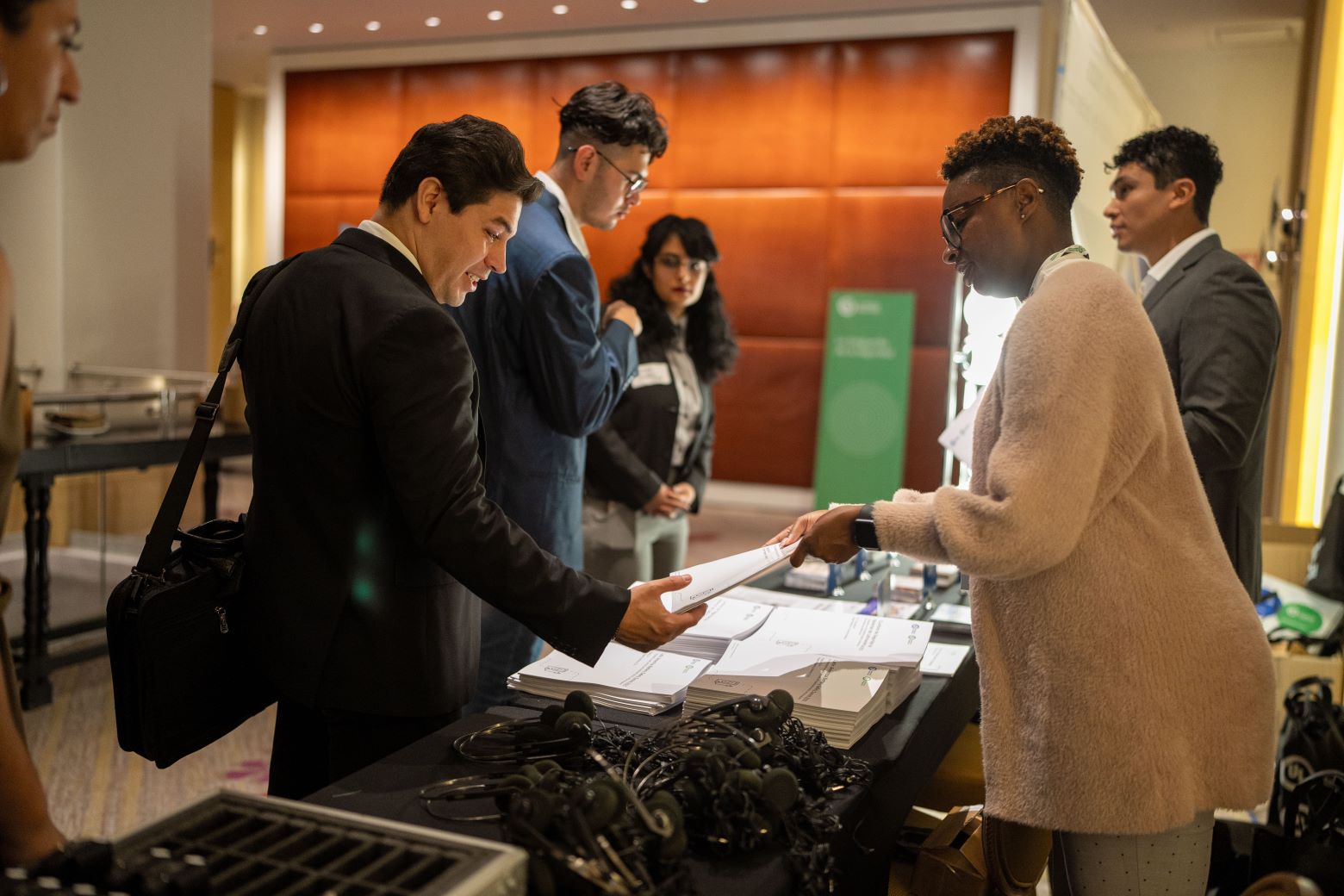 On August 8-9, 2023, UL Standards & Engagement and the Electrochemical Safety Research Institute of UL Research Institutes convened the 2023 Latin America Battery Safety Summit in Mexico City. The two-day summit provided a platform for knowledge sharing and discussion on the different aspects of electric mobility, from safe manufacturing and usage to challenges with safety, battery fires, and emergency response. Expert speakers from the UL enterprise and partner organizations throughout Latin America discussed the importance of standards and certification, and stakeholders from participating countries also shared concerns and questions regarding safety issues.
Launching the Inaugural Summit
On the first day, ULRI Senior Vice President and Chief Operating Officer Dr. Charlotte Farmer, ULSE Vice President of International Standards Sonya Bird, and ESRI Vice President & Executive Director Dr. Judy Jeevarajan provided opening remarks and welcomed attendees.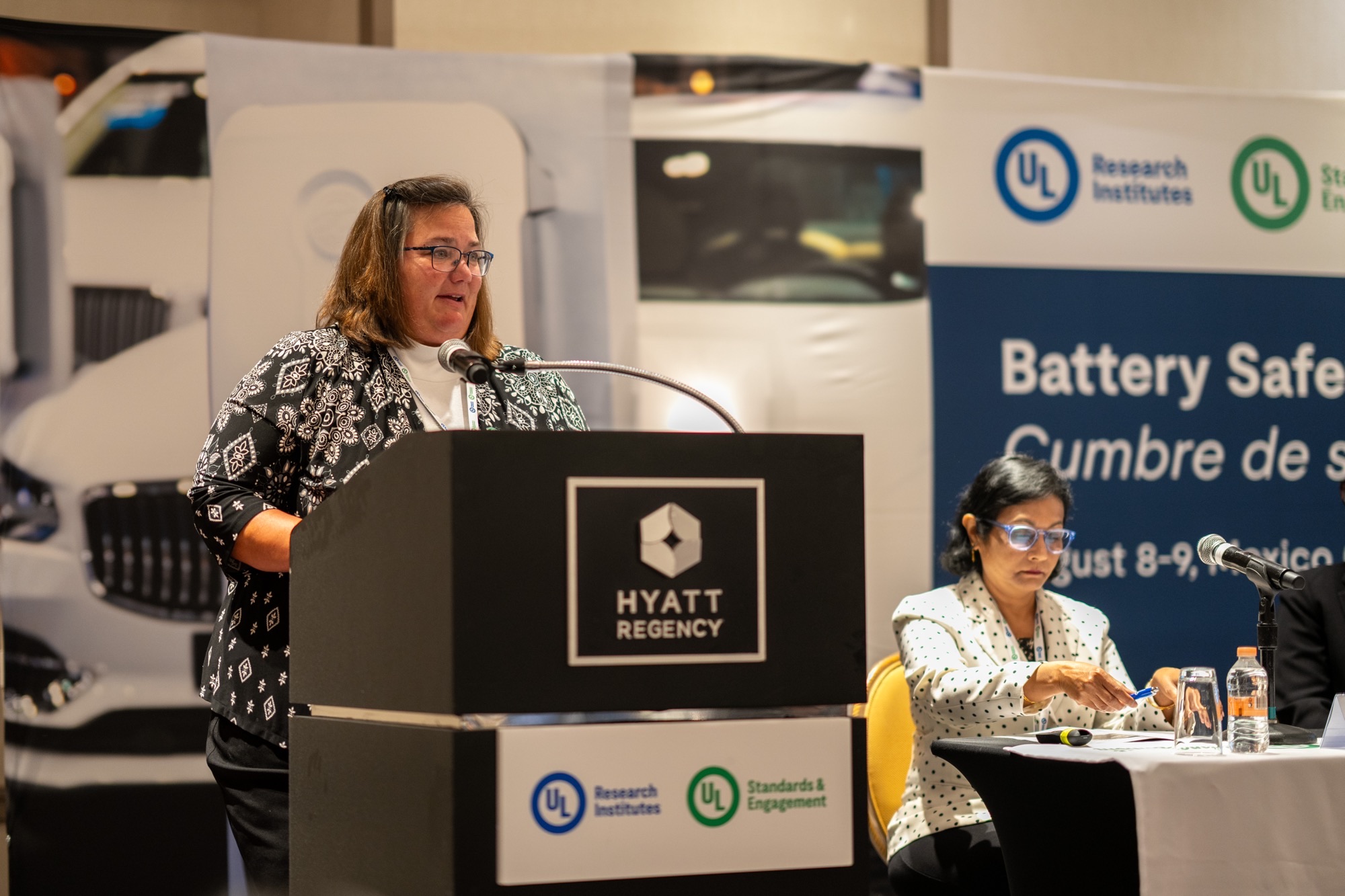 "It is thrilling to be part of the inaugural 2023 Latin American Battery Safety Summit," Bird said. "Through this event, we aim to increase awareness around the challenges that exist with batteries, battery fires, and extinguishment of battery fires. We need to continue our work to advance technology while also addressing sustainability and safety."
"I am looking forward to what we will accomplish together," Bird continued. "There is much need for continuing research and data to support ongoing standards development for batteries, including new battery chemistries, and in the development of standards to support new technology innovation."
Speakers on the first day included Mary Joyce, VP & GM of new mobility and connected technologies at UL Solutions, who presented an overview of the global automotive industry; Jeevarajan, who discussed safety issues and trends of lithium-ion batteries in electric vehicles; Dr. Steve Kerber, vice president and executive director of the Fire Safety Research Institute of ULRI, who provided a video presentation on micro-mobility device fires in buildings; LaTanya Schwalb, principal engineer for energy and industrial automation at UL Solutions, who presented on the benefits of standards and certification systems to support the EV industry; and Alec Krabbe, project engineer in standards development engineering at ULSE, who presented safety incident data on EV fires and discussed the importance of standardization in mitigating these issues.
 In his presentation, Krabbe presented data on fires and lithium battery related incidents from the National Fire Incident Reporting System, the National Transportation Safety Board, and Resilinc. On one slide, Krabbe showed a visualization of the trends of sales and incidents over time, with two nearly identical graphs sided-by-side – one depicting EV sales in the U.S. from 2011 to 2021, and the other showing the number of incidents during that same time period, showing that fire trends are consistent with the growth in EV sales.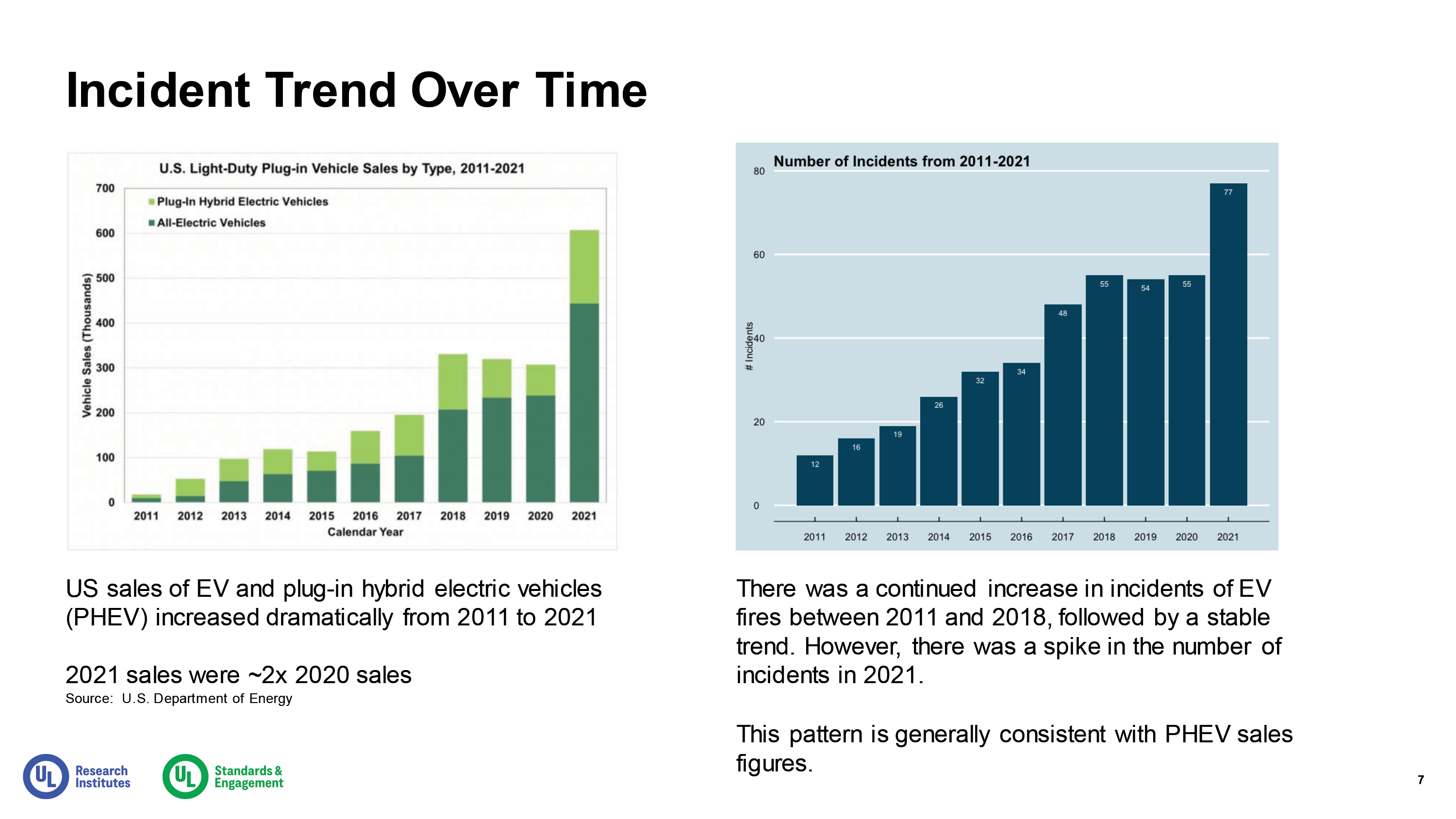 "The hazards presented by the energy-dense batteries in these vehicles cannot be ignored. Once ignited, they cannot be put out by traditional means and pose great potential for harm," Krabbe said. "EV-related accidents and fires are minimal in number when compared to the bigger picture. However, we also see that the rate they are being adopted has continued to increase year over year. The data indicates a need for action to promote the safe use of this growing technology."
Setting a Path Forward Through Safety
On the second day, ULSE Executive Director Dr. David Steel provided welcome remarks along with Farmer and Jeevarajan, noting the successes of the first day of the summit, and briefing attendees on what to expect from the interactive discussions ahead.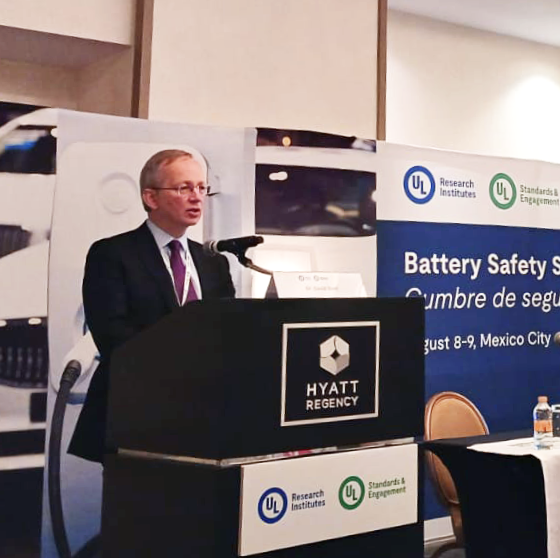 "Out of these enriching discussions, we know that the rise of e-mobility has fueled a substantial increase in investment in the automotive and lithium-ion battery production industries. At the same time, electric vehicle sales are increasing, helped by government incentives around the world," Steel said. "Without a doubt, a solid technical base supporting a safe and sustainable transition to e-mobility is essential. Standards provide this foundation."
"Today's agenda involves a series of interactive discussions about the role of standards in supporting the electrical vehicle and e-mobility industries along with the use, re-use, and management of lithium-ion batteries," Steel continued. "We want to study the opportunities and challenges in order to set a path forward to advance these technologies in the LATAM region and beyond."
Speakers on the second day included Joseph Bablo, principal engineering manager for energy storage and e-mobility at UL Solutions, who presented on the benefits of standards and certification systems to support the EV industry; and Jeevarajan, who presented on the safety of lithium-ion battery reuse. 
The event gathered officials and stakeholders including original equipment manufacturers, regulators, and battery manufacturers, as well as professionals from the automotive industry, automotive associations/alliances, research organizations and national laboratories, and standards development organizations. Members of the ULSE International team including International Senior Standards Specialist Diana Rico, Senior Standards Specialist Jonathan Lopez, and Regional Standards Manager Sofia Pacheco contributed to organizing the event and supporting its implementation onsite.
"We strive for a safer, more sustainable world in which clean energy can power our modes of transport. The presence of so many Latin American countries at this event indicates a commitment to even larger and far-reaching efforts to advance e-mobility safety and innovation," Steel said in his closing remarks. "I thank everyone for their attendance, participation and collaborative approach to the goals of this summit and appreciate the commitment to this important global initiative."