2023 Holiday Safety Guide
---

Black Friday pricing has started rolling out. Turkey orders and hotel reservations are being made. And it's almost time to pull the lights out of the attic. The holidays are here for 92% of Americans who plan to celebrate at least once between Thanksgiving and New Year's, according to a new UL Standards & Engagement study.  
With these celebrations, there is more cooking, shopping, decorating, and traveling — there is also more safety risk. The increase in fires and ER trips during the holidays can be avoided with the right preparation. At ULSE, we've been developing safety standards for 120 years that are incorporated into millions of products used or bought for the holidays. Due to their technical and comprehensive nature, standards can be hundreds of pages long, so our team of trained reindeer have condensed the information down to exactly what consumers need to know to keep the season merry, not scary.  
Check out our full set of recommendations in the 2023 Holiday Safety Guide  and help ensure that the only red vehicle that pays you a visit is Santa's sleigh, not your local first responders.
---
Deck the Halls — Just Don't Daisy-Chain the Lights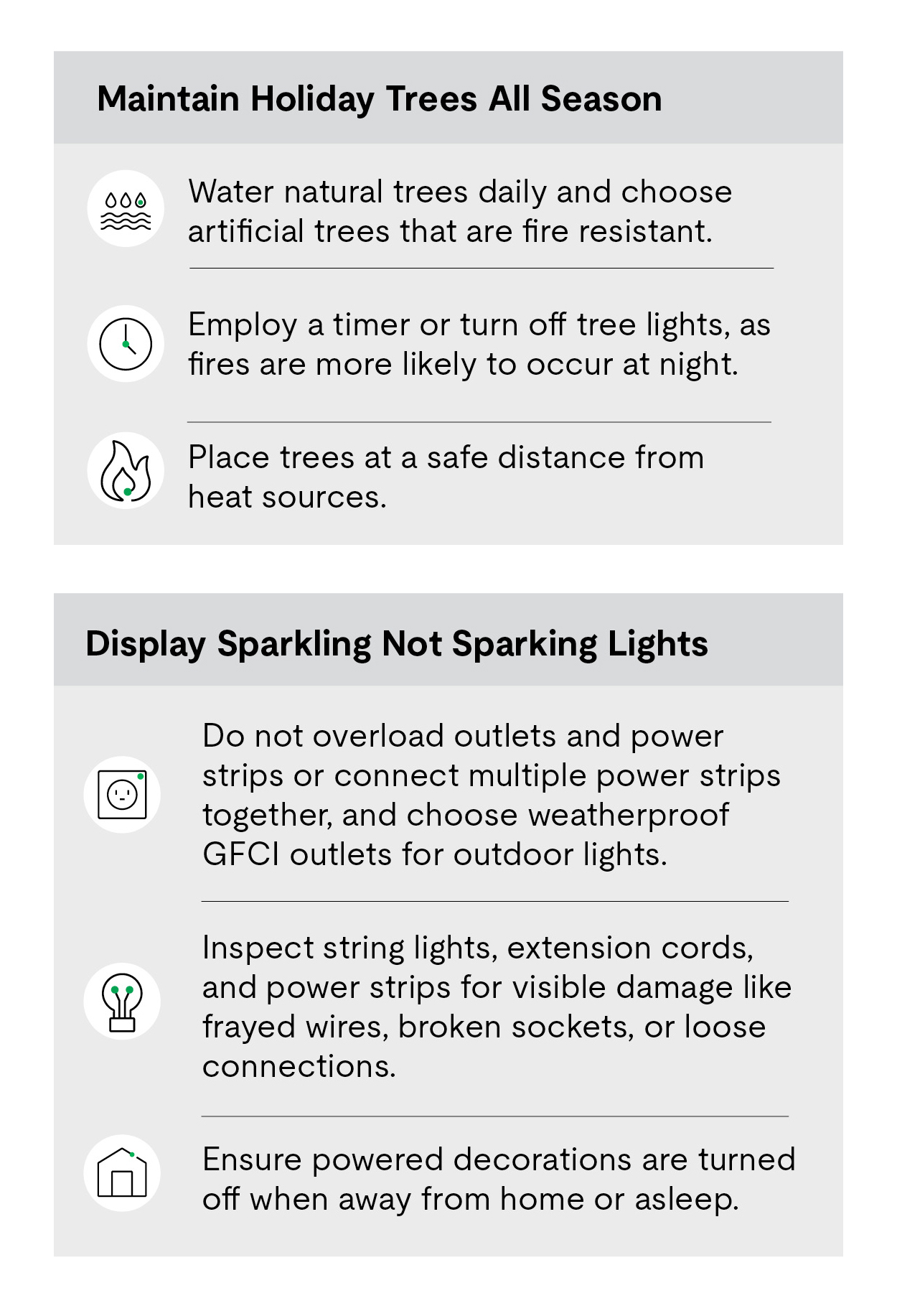 The ULSE study found that 161 million Americans typically decorate their homes with lights, trees, menorahs and more. There's a lot of good behavior — inspecting lights and cords for broken sockets, frayed wires, or loose connections, plugging into weatherproof outlets, checking that outside lighted decorations are certified for outdoor use — but more than half (54%) admitted to plugging multiple power strips or extension cords together to connect their lighted decorations, a process called daisy-chaining that can cause an electrical fire.  
Among holiday decorators who display a Christmas tree, 84% say they decorate using an artificial tree, yet more than half (52%) of those respondents said they did not check to see if their tree had a "fire resistant" label. 
 
---
Gift Buyers Prioritize Price Over Safety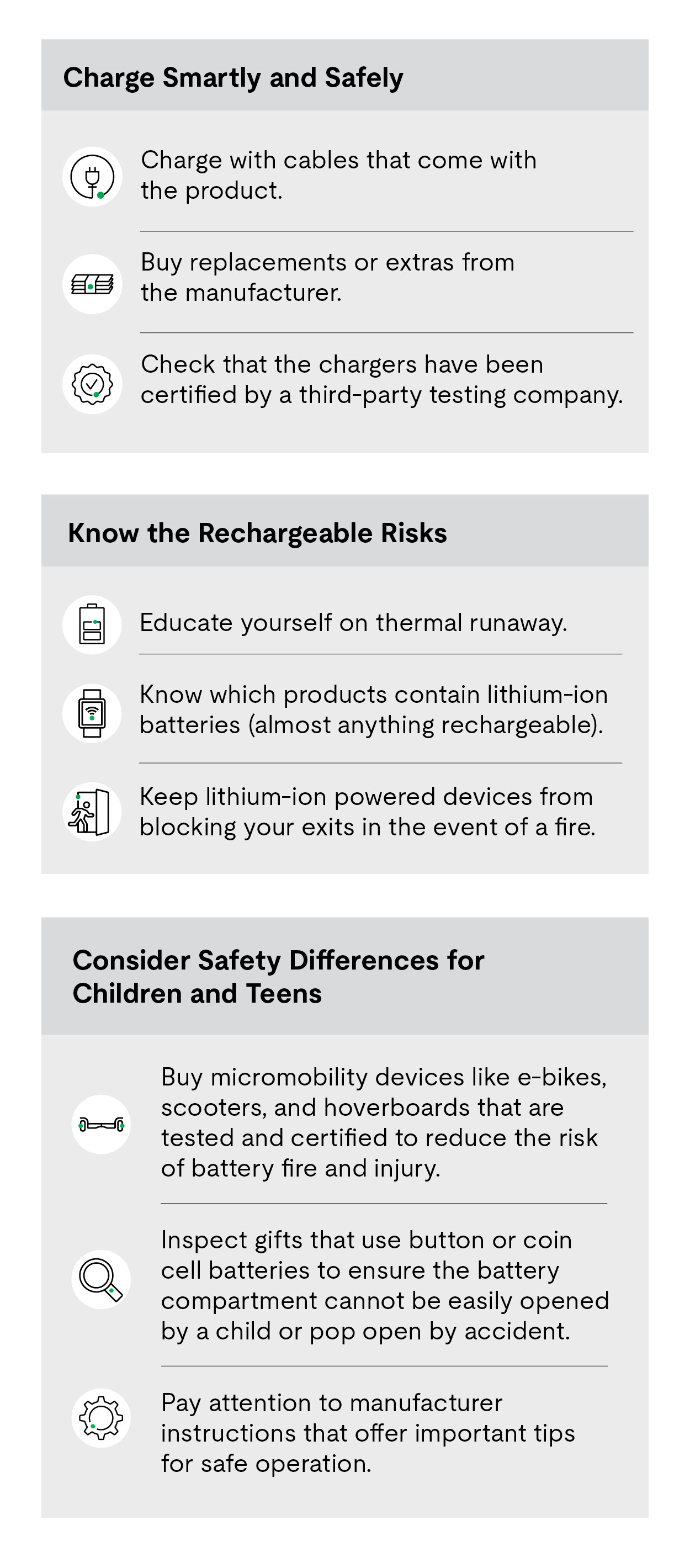 More than three-quarters (76%) of U.S. adults say they typically purchase holiday gifts. The strongest motivator for these shoppers is price (85%), followed by a desire to purchase from well-known retailers (79%) or well-known brands (75%). Far fewer say they prefer to buy gifts based on whether they meet safety standards (64%).  
For the 83% of gift buyers who plan to purchase an electronic gift powered by rechargeable batteries, it's important to be aware of lithium-ion battery safety standards that are designed to limit the consequences of thermal runaway. Unfortunately, while there will be lots of rechargeable gifts under the tree, an alarming number of gift buyers have no idea what's powering their gifts. How many? Check out the full results on page four of our guide.  
The safety considerations are slightly different for children and teens. For the 35% of gift buyers who have a child six years or younger on their lists, standards that strengthen battery enclosures and ultimately prevent the accidental ingestion of coin and button cell batteries can save lives. One of our most recently updated standards, UL 4600, changes the requirements for battery compartments to make it tougher to open accidentally or for button or coin cell batteries to fall out. The Consumer Product Safety Commission just announced the standard as its choice to meet Reese's Law, named after 18-month-old Reese Hamsmith, who lost her life to accidental battery ingestion in 2020.
 
---
Holiday Cooks Should Prepare Their Kitchens for More Than Meals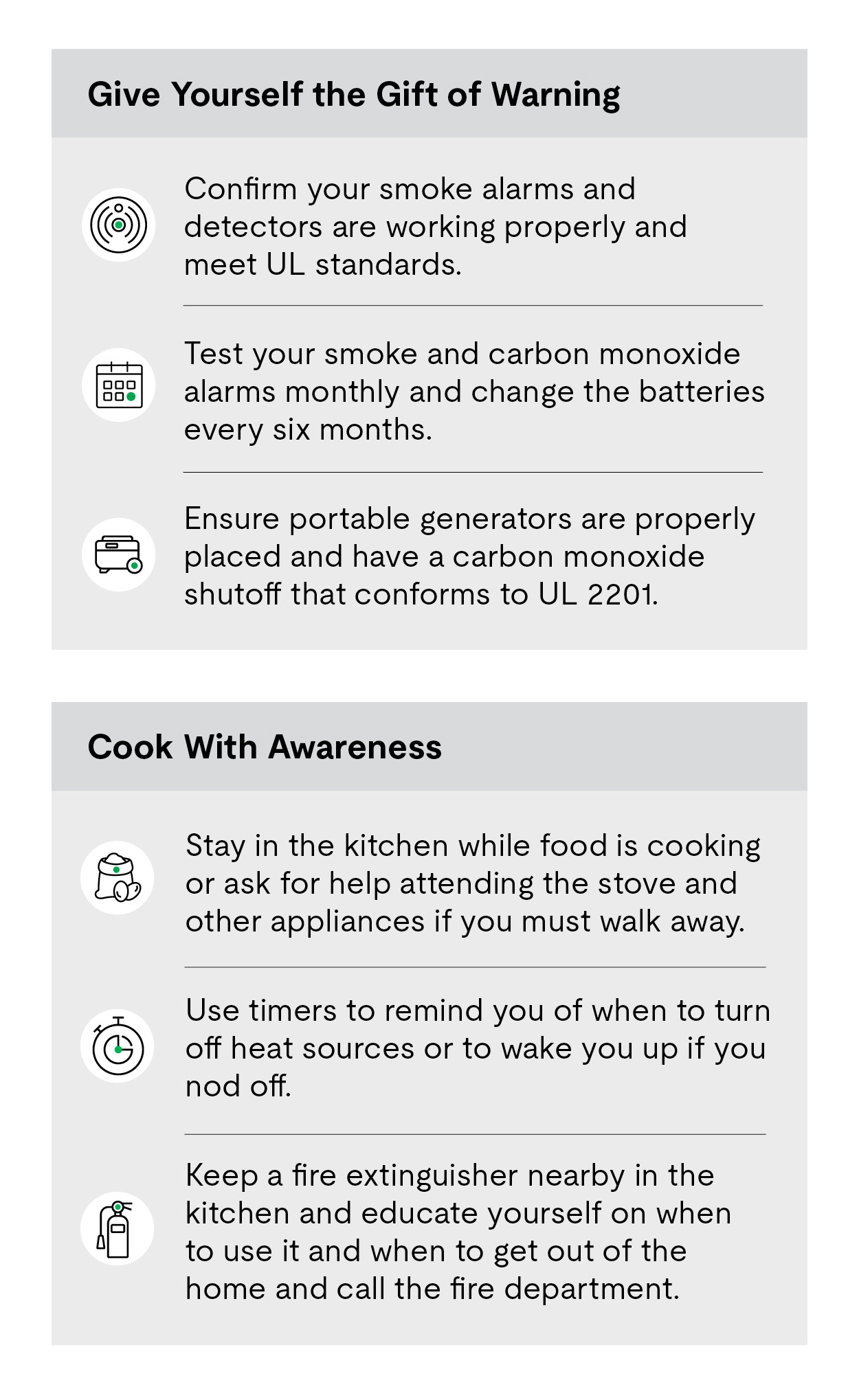 Keep those meals piping hot — not smoking. Cooking fires are dramatically more likely during the holidays, with the National Fire Protection Association reporting a 240% increase in the daily average on Thanksgiving, a 72% increase on Christmas Eve, and a 71% increase on Christmas Day.  
Only 29% of the holiday cooks in ULSE's study reported testing their smoke alarms monthly, as experts recommend. Nearly one-third (31%) do not have a fire extinguisher in the kitchen area. Further, a majority (52%) do not have a carbon monoxide alarm near the kitchen.  
There's also no need to go it alone. More than half (55%) of holiday cooks will share the responsibilities with at least one other adult. Invite them to take over the stove if you need to walk away, take a nap, or run away from visiting family.
 
---
Two Risks Travelers Need to Know Before They Go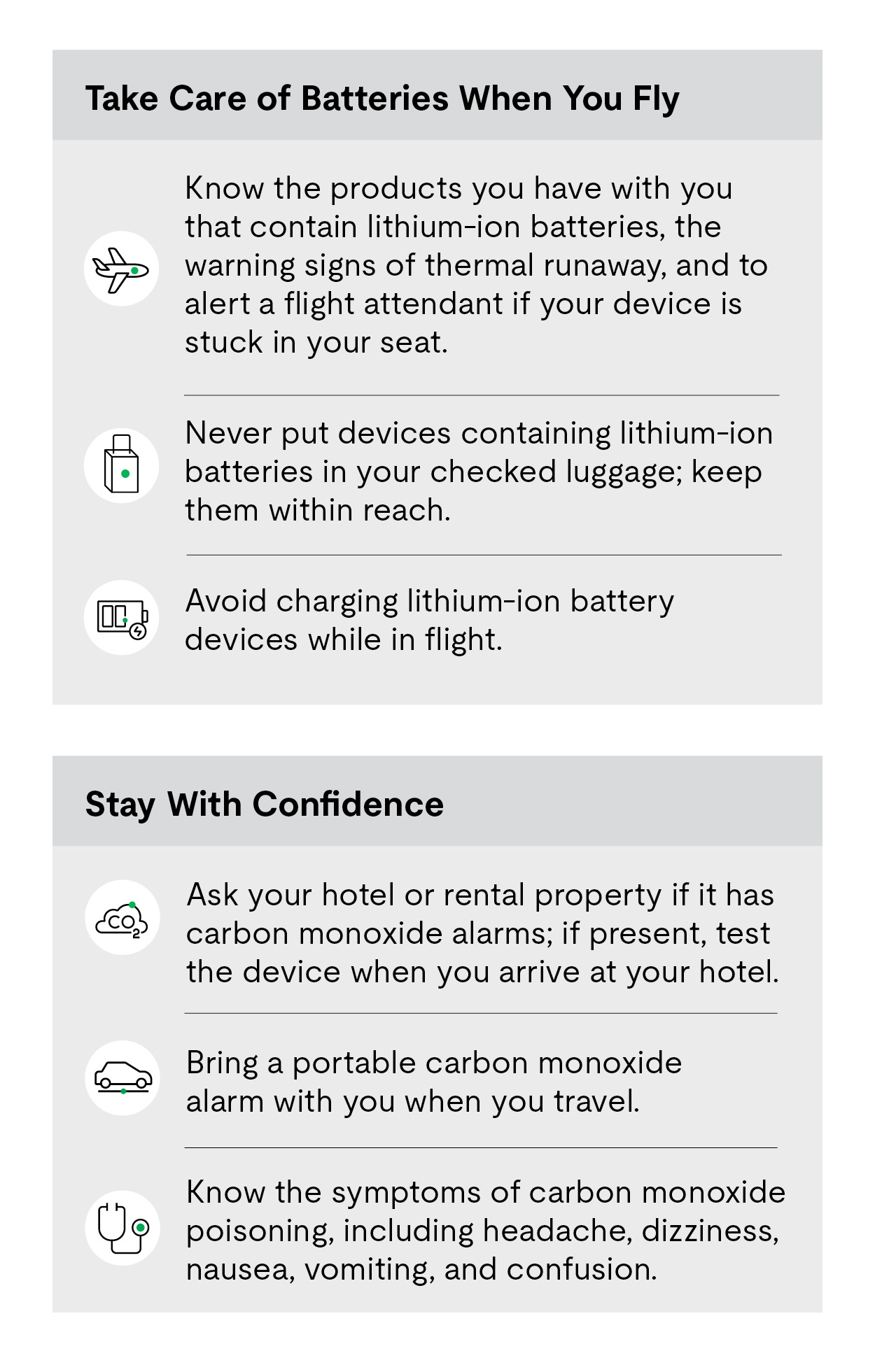 More than 91 million Americans say they typically travel during the holiday season, but those traveling by plane are unaware of a growing risk. Almost every air traveler (97%) has a device powered by rechargeable lithium-ion batteries with them when they fly — think phone, smartwatch, laptop, tablet, etc. — yet many have no idea about the risk of thermal runaway if these batteries overheat. They can spark, smoke, or even catch fire, which no one wants to have happen at 40,000 feet.  
A concerning number of flyers admit to putting rechargeable items in checked luggage, including 26% of passengers who said they check their power banks and portable chargers. So if you are flying this holiday season, stop and think before you pack anything rechargeable in your luggage.  
For the 63% of holiday travelers heading over the river and through the wood and opting for a hotel or rental property instead of grandmother's house, know before you go if your lodging will have a carbon monoxide alarm. There is a strong (and incorrect) assumption of protection, particularly in more upscale hotels, where 67% say they do not worry about exposure because they assume the property has a carbon monoxide alarm installed. The numbers are only slightly lower for economy and mid-scale hotel chains (63%) and for rental property platforms like Airbnb or VRBO (58%). Travelers should know that only 14 states require carbon monoxide alarms in hotels.  
 
ULSE wants you and your family to enjoy an incident-free holiday season. Deck those halls. Make grandma's stuffing. Find the perfect gift. Fly to loved ones. Here's to a joyful and safe holiday season!