Collaborating to Achieve International Standards Cooperation
February 11, 2021
UL Standards & Engagement Signs Agreement to Collaborate with Bahamas Bureau of Standards and Quality
---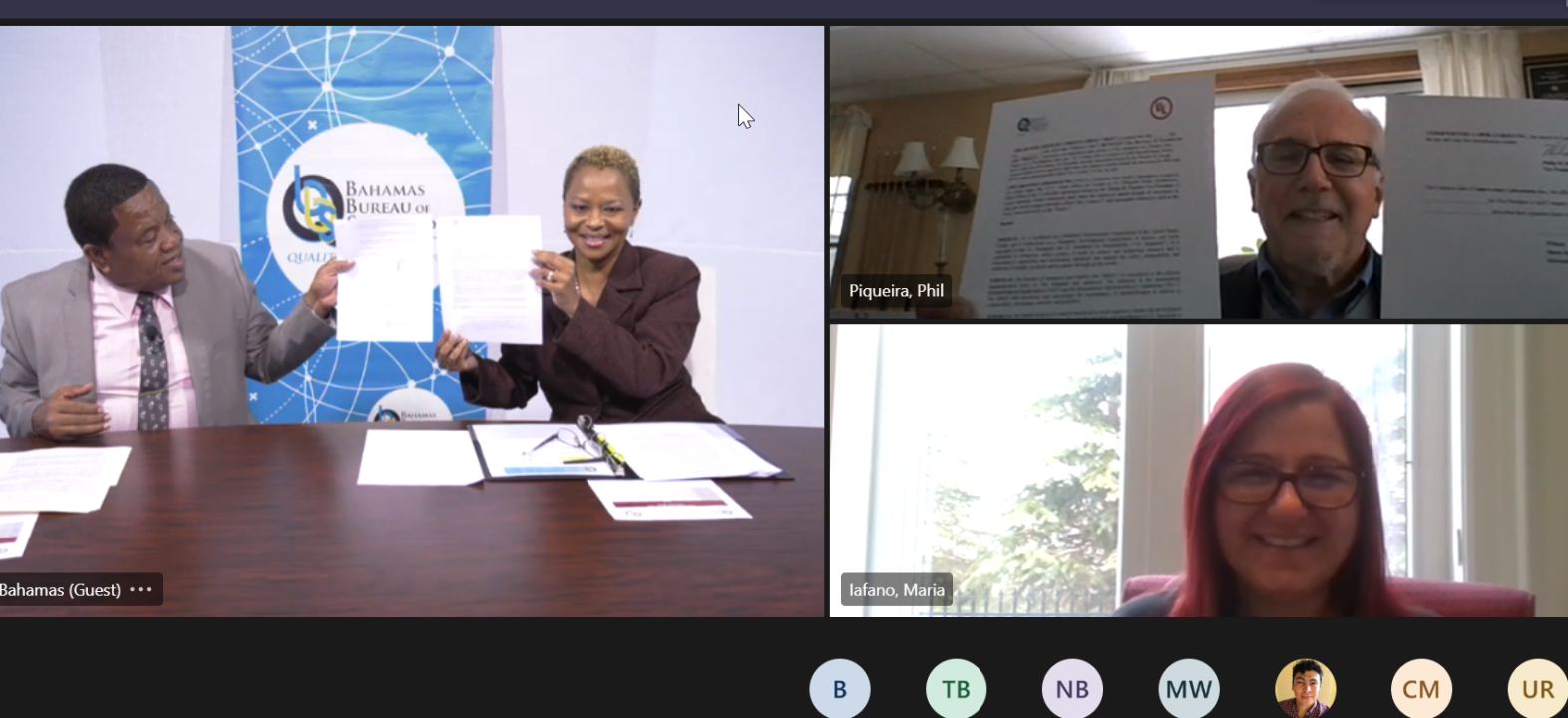 UL Standards & Engagement and the Bahamas Bureau of Standards and Quality (BBSQ) recently signed a collaboration and licensing agreement to provide a framework for developing technical standards in the region.
Through the agreement, the organizations aim to work together, using best practices in standards development, to create standards that improve the quality of life, well-being and public safety in the Bahamas through the rational use of resources, innovation, productivity and trade. The agreement also enables BBSQ to leverage and reference UL standards within the Bahamas.
"We believe this partnership with BBSQ is a terrific achievement for both organizations," said Phil Piqueira, vice president of global standards at UL Standards & Engagement. "BBSQ is committed to enhancing health, safety and sustainability in the Bahamas, and we are proud to collaborate with them in that mission, knowing that a safer Bahamas brings us closer to our goal of a safer world."
"Our partnership with UL Standards & Engagement will give us access to best practices in standards development and enable us to be even more focused on innovation, scientific knowledge, safety, security and sustainability," said Dr. Renae Ferguson-Bufford, director of BBSQ.
Due to the health contingency of the COVID-19 pandemic, the agreement was signed virtually by both parties on February 5, 2021.
About BBSQ
The Bahamas Bureau of Standards and Quality (BBSQ) is a body corporate by virtue of the Standards Act (2006) and the Weights and Measures Act (2006) with reporting relationship to the Ministry of Labour. The BBSQ's primary function is the formulation and /or adoption of standards as national instruments of socio-economic development, in addition to offering metrology, inspection, testing and certification services, the latter three being collectively termed conformity assessment. The BBSQ also has a training and consulting mandate as well as regulatory responsibility for operation of a legal metrology and quality-related inspection service that it carries out via market surveillance on non-food products. The organisation also operates in accordance with The CARICOM Regional Organisation for Standards and Quality (CROSQ). Visit https://www.bbsq.bs/en/ for more information.