Collaborating to Achieve International Standards Cooperation
January 10, 2022
UL Standards & Engagement Concludes 2021 Joint Workshop Series with Shenzhen International Security Technology Co.
---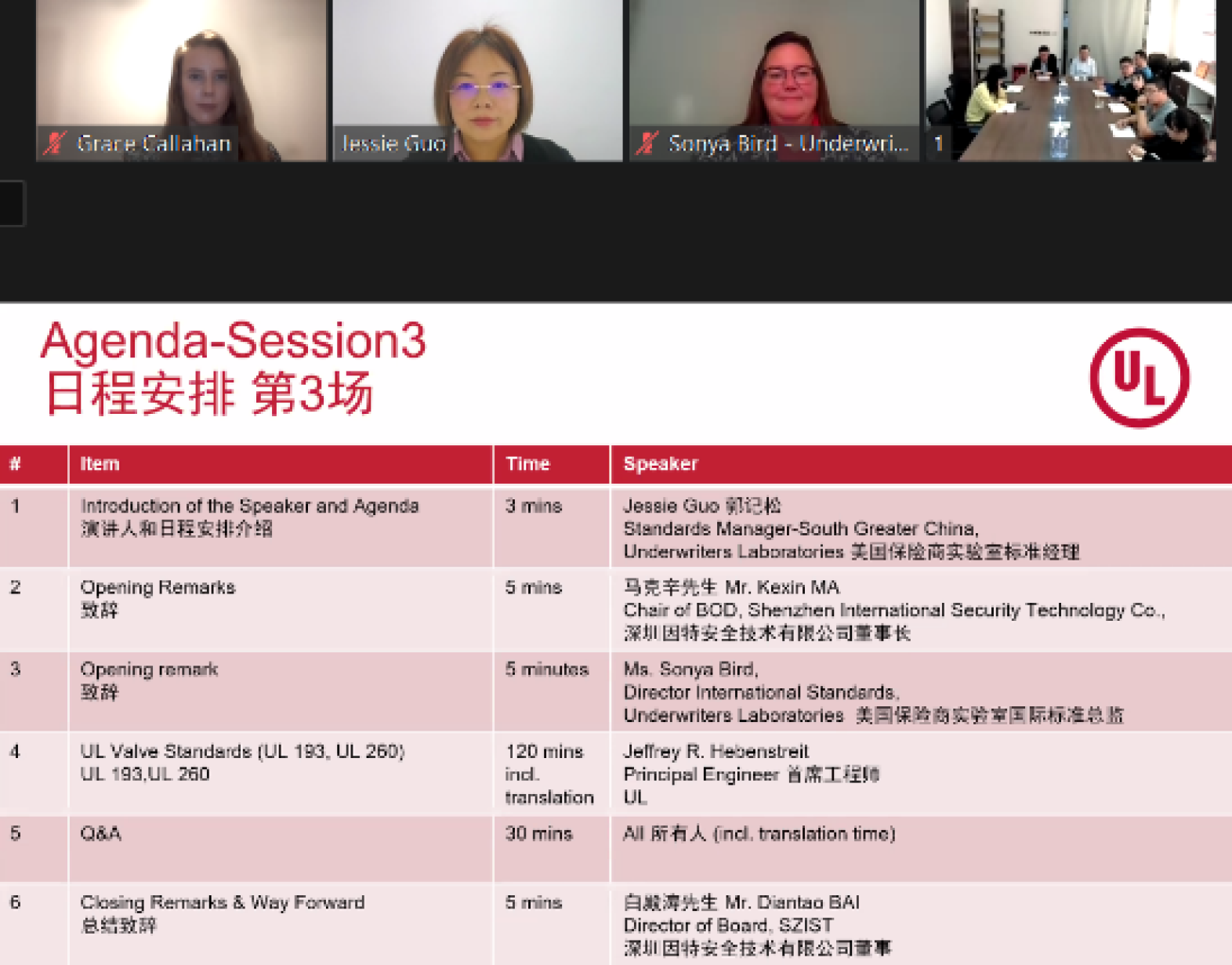 In 2021, UL Standards & Engagement and Shenzhen International Security Technology Co. (SZIST) signed a memorandum of understanding (MOU) and hosted a series of virtual workshops to begin sharing safety information with one another and collaborating on standardization efforts. 
In line with the goals of the MOU agreement, the workshop series was organized to promote communication and collaboration between the two organizations, strengthen the capacity building of SZIST through the adoption and reference of UL standards, and promote participation of SZIST employees and local stakeholders in UL Standards & Engagement's standards development process.
The workshop series consisted of three sessions throughout the year on fire safety topics including fire doors, valves for fire protection, and extinguishing devices. Each session provided a technical overview of the topic and related standards. Between 80-120 participants attended each workshop, representing SZIST, the fire industry, product manufacturing companies, and UL standards technical panel (STP) members. 
Experts from UL Standards & Engagement presented on requirements in the UL fire safety standards catalog. 
"This event will help local companies to learn more about international common standards, referring to the standards and best practices, to improve quality of Chinese fire protection products, facilitate the high-quality development of fire industry, and keep pace with international developments to enter into the international marketplace," said Kexin Ma, chair of the board of SZIST.
"We are proud to support the adoption and reference of our fire safety standards in China through partnership and collaboration with SZIST," said Phil Piqueira, vice president of global standards at UL Standards & Engagement. "We look forward to continued collaboration in 2022 and beyond."
Shenzhen International Security Technology Co., Ltd
Shenzhen International Security Technology Co., Ltd. (SZIST) was established by the Tianjin Fire Research Institute Ministry of Emergency Management with the approval of the Ministry of Public Security. As the editor-in-chief or participating unit, SZIST participated in the formulation and revision of national standards, industry standards, and group standards in the field of emergency rescue and fire protection. The company now has the first-level professional contracting qualifications for fire-fighting facilities engineering and first-level qualifications for fire-fighting engineering special design and has obtained the Guangdong Province safety technology protection system design, construction, maintenance qualification certificate, safety production license, and quality management system certification. The business scope mainly focuses on the production, installation, debugging and maintenance of various fire protection, engineering systems, security and monitoring systems; the production, sales and maintenance of various fire protection, security, and monitoring equipment; the development of new technologies and new products for fire safety engineering and development, etc.