Collaborating to Achieve International Standards Cooperation
September 9, 2021
UL Standards & Engagement and Singapore Battery Consortium Discuss Repurposing Electric Vehicle Batteries in Joint Webinar
---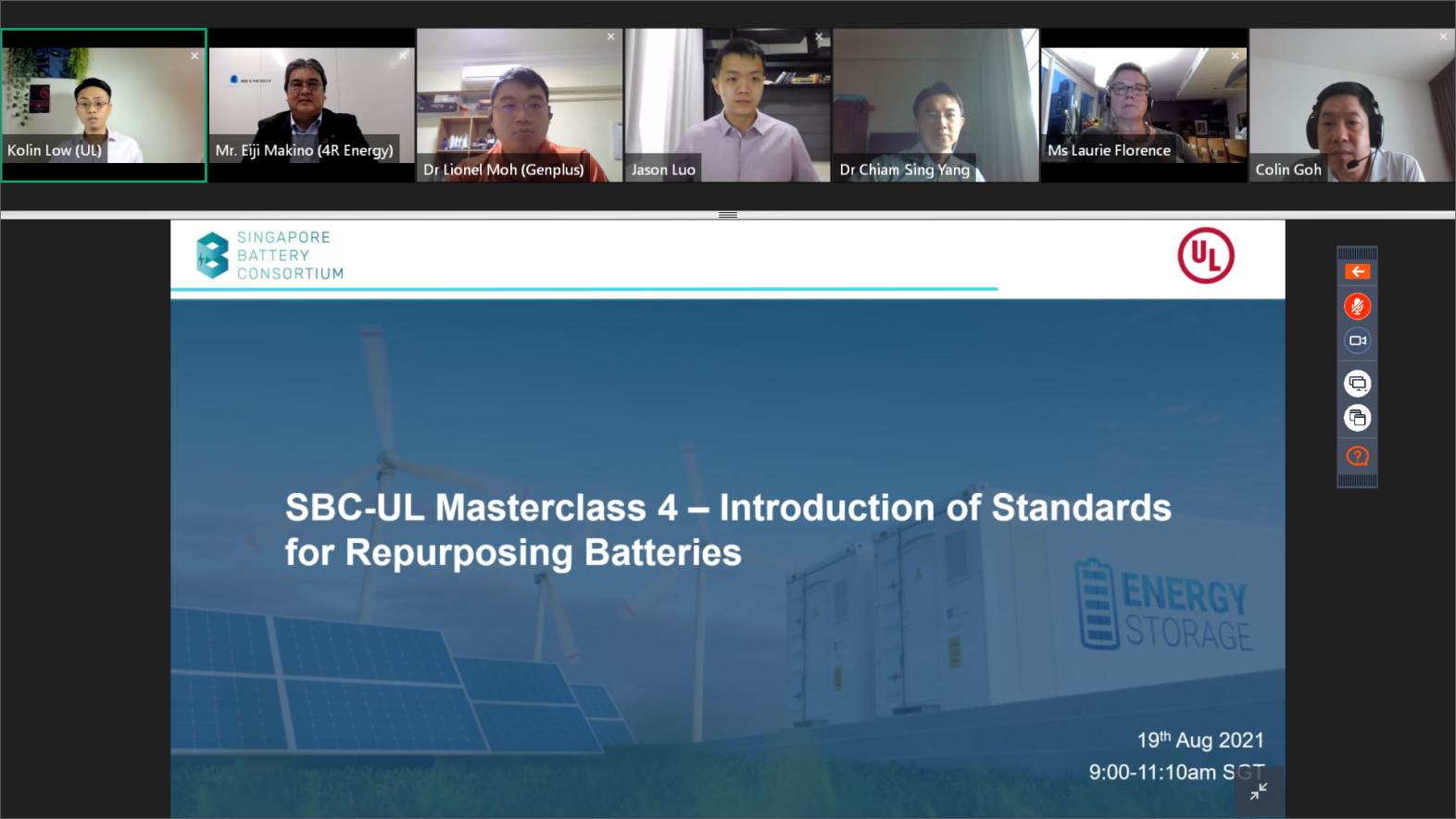 On August 19, 2021, UL Standards & Engagement and the Singapore Battery Consortium held a joint virtual webinar to discuss safe and sustainable energy solutions for repurposing electric vehicle (EV) batteries. The webinar was the fourth of six planned sessions on international standards for the battery value chain. 
Eiji Makino, president of 4R Energy Corp, Japan's industry leader on reusing and repurposing EV lithium-ion batteries, and Laurie Florence, principal engineer for stationary/motive batteries and energy storage systems at UL Solutions, spoke about the roles of international standards such as UL 1974, the Standard for Evaluation for Repurposed Batteries in setting the benchmark for high-quality repurposed batteries, addressing safety concerns and building trust for the recognition of repurposed batteries. 
Speakers also addressed circular economy efforts, such as the cascade use of EV batteries, which is a critical component of Singapore's national priorities to support clean and sustainable transportation. Colin Goh from the National Environment Agency of Singapore discussed policy-making trends in this area while presenting on the country's Extended Producer Responsibility System for E-waste Management. 
Dr. Lionel Moh from Genplus, a Singapore-based battery solution provider, concluded the webinar with a presentation on the challenges facing the industry in repurposing lithium-ion phosphate batteries for energy storage systems. 
"This is an exciting time to share knowledge that advances the development and deployment of safer, more sustainable energy solutions," said Phil Piqueira, vice president of global standards at UL Standards & Engagement. "In partnering with organizations like the Singapore Battery Consortium, we are able to take on those challenges while also addressing the specific safety and sustainability needs of Singapore and surrounding countries in the ASEAN region."
Stakeholders from Japan, Australasia, China, and India also participated in the webinar.