Collaborating to Achieve International Standards Cooperation
April 11, 2019
UL Standards & Engagement Signs Collaboration Agreement with Enterprise Singapore
---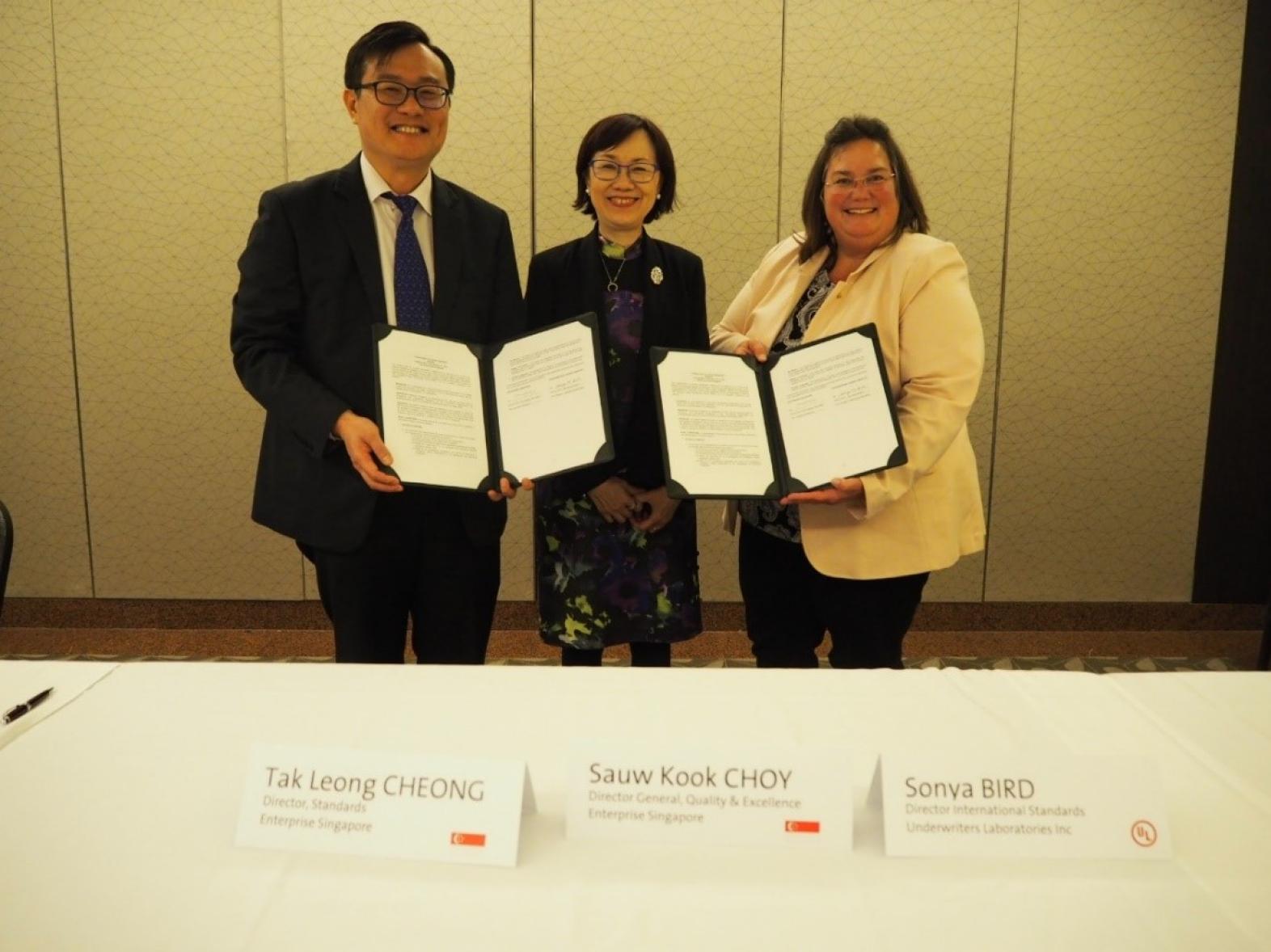 UL Standards & Engagement recently signed a collaboration and licensing agreement with Enterprise Singapore, the national standards body of Singapore, formalizing a joint effort to develop safety standards in the region. The agreement was signed at the 2019 Pacific Area Standards Congress in Wellington, New Zealand.
The agreement aims to promote communication between the two organizations, while also facilitating close support for the development of timely and impactful standards for industries and regulators.
As the national standards agency in Singapore, Enterprise Singapore facilitates the development, promotion and review of national standards. The agency also represents the country in the International Organization for Standardization (ISO) and the International Electrotechnical Commission (IEC). Additionally, Enterprise Singapore actively participates in regional standards organizations such as the Pacific Area Standards Congress (PASC) and the ASEAN Consultative Committee for Standards and Quality (ACCSQ).
"UL Standards & Engagement is excited to strengthen our relationship with Enterprise Singapore and collaborate on the implementation of effective safety standards in the region," said Phil Piqueira, vice president of global standards for UL Standards & Engagement. "Being one of the leading national standards bodies and advocates for emerging technologies, I am confident that this strategic tie-up will spearhead the development of more standards to help ensure the safe use of new innovations and help the world embrace technological disruption. This partnership allows UL Standards & Engagement to advance the UL safety mission and move forward in new frontiers."
About Enterprise Singapore
Enterprise Singapore is a government agency championing enterprise development in the Republic of Singapore. The agency works with committed companies to build capabilities, innovate and internationalize. It also supports the growth of Singapore as a hub for global trading and startups and builds trust in Singapore's products and services through quality and standards. Visit www.enterprisesg.gov.sg for more information.