Collaborating to Achieve International Standards Cooperation
February 22, 2021
UL Standards & Engagement Hosts Joint Workshop Series with the Saudi Standards, Metrology and Quality Organization
---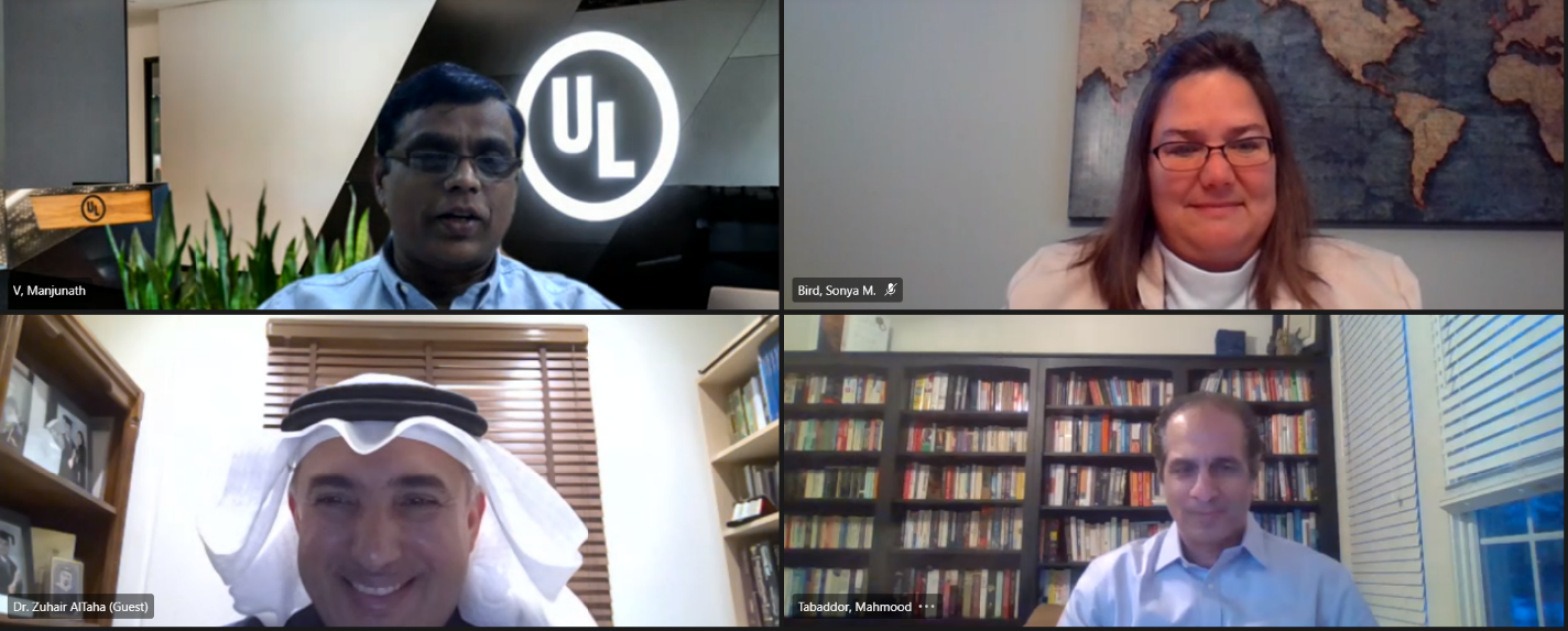 NORTHBROOK, Ill. February 17, 2021 – UL Standards & Engagement and the Saudi Standards, Metrology and Quality Organization (SASO) recently hosted the first two of 11 virtual workshops in a series organized to promote the sharing of standardization and safety information. As outlined in a 2007 collaboration agreement, both organizations worked together to identify topics for the series that would be relevant to Saudi Arabia and SASO.
In the first workshop, Mahmood Tabbador, UL research manager, provided an introduction to artificial intelligence and machine learning, while also addressing safety and security challenges associated with the technology. In the second workshop, Nicholas Alexiades, UL functional safety engineering manager, provided an overview of the safety and security challenges associated with autonomous products. Both topics included follow-up sessions that outlined how standards can help to address these current issues, using UL 4600, Standard for Evaluation of Autonomous Products as an example. 
The remaining workshops in the series will include topics such as circular economy, smart homes, smart grids, cables, renewable energy and drones. Each workshop will provide an overview of the technology and associated safety challenges, while also highlighting the advantage that standards can provide in addressing these concerns.
In addition to this workshop series, both organizations plan to continue to promoting mutual communication and collaboration in standardization. Particular attention will be given to UL 4600, with discussion centered on ways that the Standard can benefit both SASO and Saudi Arabia.
About the Saudi Standards, Metrology and Quality Organization
The Saudi Standards, Metrology and Quality Organization (SASO) is a government body responsible for facilitating the development of standards in Saudi Arabia by coordinating standardization activities with government, industry and the community. SASO establishes and approves the country's standard specifications for goods, products, services, measuring and calibration devices. The organization also determines sampling methods, testing methods, technical inspection and quality systems. Additionally, SASO determines technical implementation principles and conditions, classifications, engineering drawings, terms, definitions, symbols and other matters issued by the council in the field of specifications, standards, calibration and quality, with the exception of food and pharmaceutical products.