Collaborating to Achieve International Standards Cooperation
August 17, 2018
Convening Stakeholders to Influence Change in India
---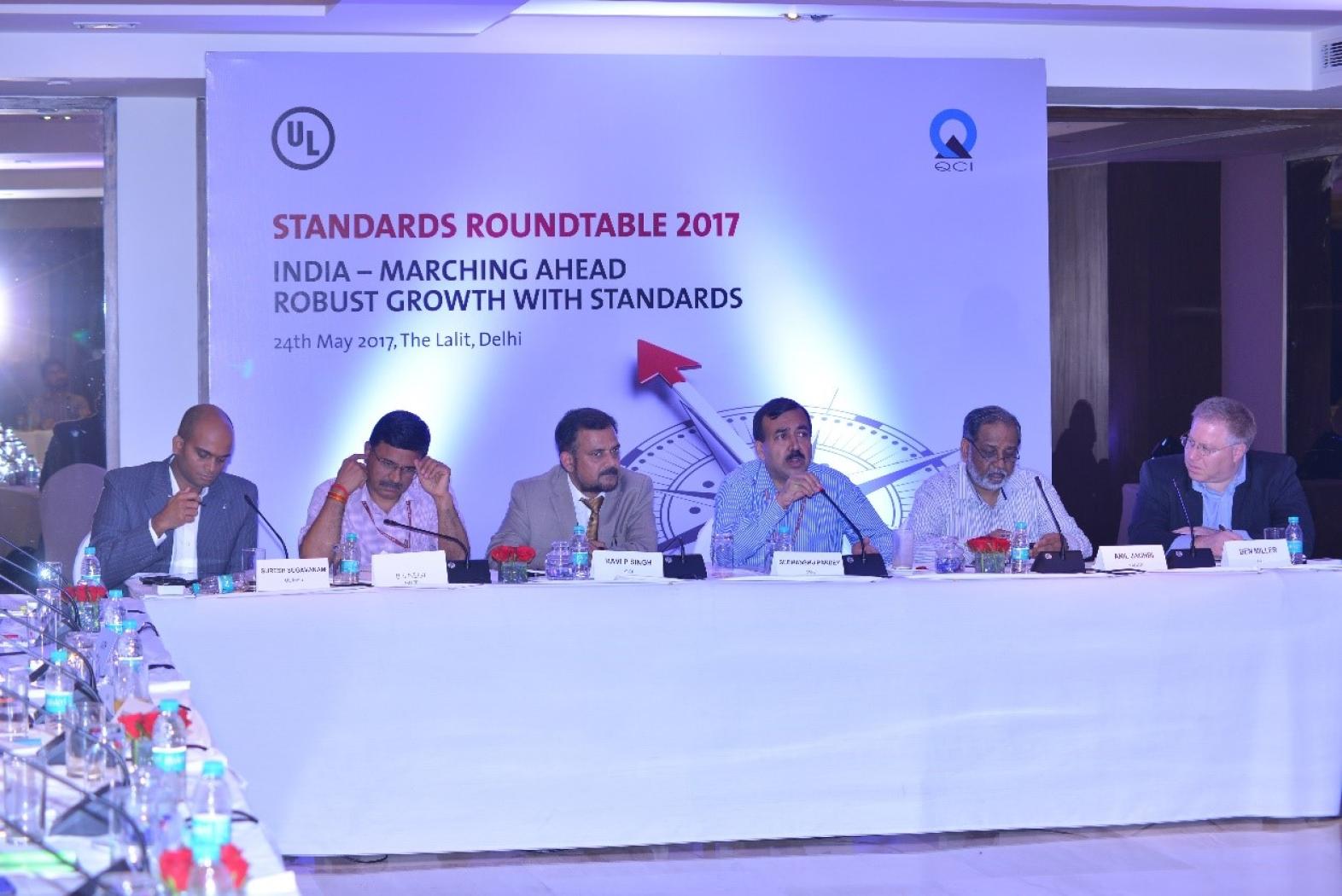 UL Standards & Engagement and Quality Council of India host Standards Roundtable
UL Standards & Engagement and the Quality Council of India (QCI) co-hosted the third Standards Roundtable to bring together government and industry to accelerate standards development for multiple sectors and build 'Brand India.'
Taking place March 15, 2018, in New Delhi, the event's theme was "Accelerating Standards Development For Building Brand India." In line with the theme, attendees discussed how best to speed up the process of creating domestically relevant, technologically sound, science-based and globally harmonized standards to foster better safety, sustainability and healthy outcomes for the country.
Another of the event's focal points was discussion on the draft Indian National Standards Strategy (INSS), which had recently been released by the Indian Ministry of Commerce. The document supports the use of standards to enhance competitiveness in domestic and global markets.
Commenting on the landmark event, Phil Piqueira, Vice President, Global Standards, said, "The Standards play a pivotal role in the economic development and are all the more relevant in today's world where new technologies are proliferating at a rapid rate, shrinking the time to market from years to months. In such a scenario, a collaborative effort is needed to secure growth and address safety, quality and performance challenges. As a nonprofit organization, UL Standards & Engagement's mission is to promote safe living and working environments around the world, and we are keen to extend this mission to India by partnering with relevant stakeholders."

Playing a supporting role at Fifth National Standards Conclave
UL Standards & Engagement joined the Confederation of Indian Industry (CII) and other partners to sponsor the 5th National Standards Conclave. The event, which took place June 18-19, 2018, in New Delhi, had the theme "Implementing the Indian National Standards Strategy" in support of the document developed by the Ministry of Commerce and Industry for the Government of India.
UL Standards & Engagement staff provided three presentations at the Conclave, including the convergence of standards development activities in India, innovative standards development to meet the needs of rapidly-changing technology and case studies on the development of a standard for hoverboards and an India-specific standard for electrical energy storage systems.
The National Standards Conclave is organized annually to generate awareness among industry members and other stakeholders about the importance of standards in the changing scenarios of global trade.