Addressing Safety Concerns to Accelerate Adoption of Electric Vehicles in India
---
UL Standards & Engagement, U.S. Commercial Services, and Bureau of Indian Standards organized an EV safety conference for safety & and security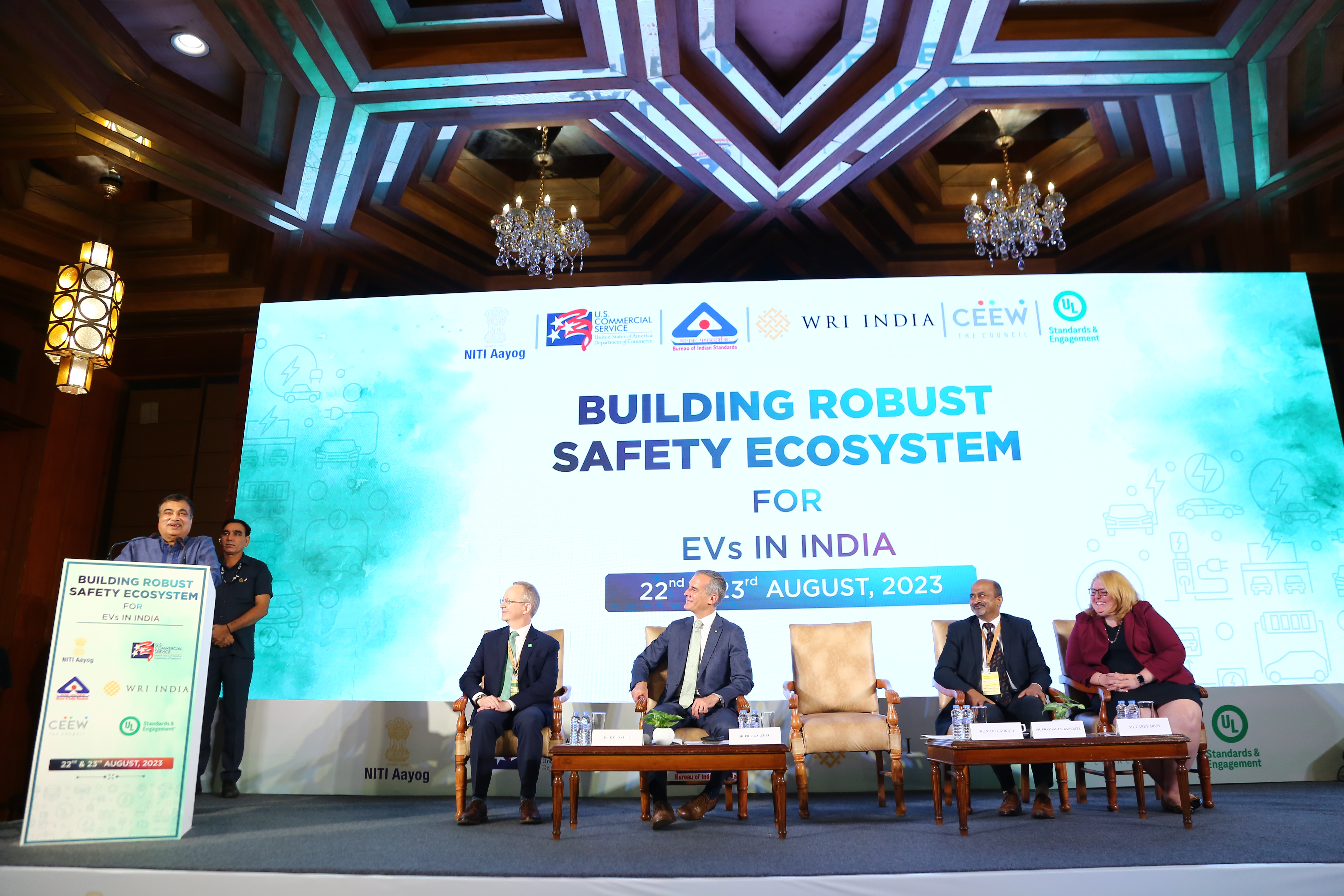 New Delhi, India (25 August 2023) - UL Standards & Engagement, in collaboration with the U.S. Commercial Service, Bureau of Indian Standards, WRI India, NITI Aayog, and the Council on Energy, Environment and Water (CEEW), convened the 'Constructing a Resilient Electric Vehicle Safety Ecosystem in India' conference this week. The event put forward solutions to address safety concerns for the growing electric vehicle (EV) market in India.
With the surge in electric vehicle sales, India's EV industry is poised for substantial growth in the coming years. However, recent incidents of EV-related fires have raised concerns, underscoring the urgent need for prompt safety measures.
Stakeholders proposed strategies for establishing a safer, more secure, and sustainable EV ecosystem in India. Participants also discussed challenges faced by the country's EV sector, including adapting electric vehicles to tropical climates, developing a supporting infrastructure, and ensuring competence across the entire supply chain, from raw materials to maintenance.
The importance of adopting global best practices and investing in research and development was highlighted as a critical component to effectively address these challenges. The conference also ensured the pivotal role in steering toward a future for electric vehicles in India that is safe, secure, and environmentally conscious. The importance of establishing a strong quality framework for EVs, building consumer confidence, and the necessity for a skilled workforce was underscored during the two-day session. 
David Steel, Executive Director of UL Standards & Engagement, expressed, "The collective expertise shared over the last few days moves India closer to a safe, reliable, and sustainable electric vehicle ecosystem for future generations. The potential of EVs is inextricably linked to safety. Standards are a critical part of capitalizing on that potential, allowing for greater global sustainability in concert with safety."
Eric Garcetti, United States Ambassador to India, added, "Amidst this transformative era, where climate concerns are significant, we are not merely engaged in engineering vehicles; we are dedicated to making people's lives better. We're working hard to set standards and accelerate this change during a time of significant shifts due to climate concerns. Our commitment resonates in the expanding global electric car sector, where India emerges as a frontrunner, and the United States seeks a partnership to further this cause. I believe investment in innovations can help us take this ahead."
Nitin Gadkari, Minister of Road Transport and Highways of India, stated, "The automotive industry is a vital contributor to our country's economy. With the increased adoption of electric vehicles in India, it's evident that we must take steps to support their development, including charging infrastructure and hydrogen filling stations, alongside greater investments in EVs. Our path towards a sustainable future requires affordable and versatile vehicles that are embraced by everyone."
Sudhendu Sinha, Advisor - Infrastructure Connectivity - Transport & Electric Mobility, NITI Aayog, stated, "In our ongoing journey, it's crucial to identify safety gaps. Through establishing and enforcing standards, we guarantee consistent safety measures. With numerous Indian states aspiring to elevate manufacturing and mobility, we strive to foster an environment of innovation and progress. Enduring and meaningful impact demands our products to embody these aspirations and also adhere to established standards. This alignment of ambition and compliance defines our success narrative."
Madhav Pai, CEO, WRI India, added, "For creating a safe and robust EV ecosystem in India, we need a collaborative approach among government, industry, and academia. There is a huge opportunity to encourage innovation and bring in new battery chemistry, technologies and startups into the mainstream. The Open Battery Management System platform initiated by NITI Aayog, and supported by WRI India, has brought together more than 50 academic institutions and industry leaders to develop basic BMS stack for both software and hardware components which ensures that two-wheeler and three-wheeler EVs are safe."
Durra Elmaki, Commercial Attaché, U.S. Commercial Service, commented, "We are thrilled to announce that the U.S. Commercial Service has teamed up with UL Standards & Engagement to host an exciting conference on standards for electric vehicles. The event promises to shed light on the various perspectives held by stakeholders regarding EV standards and to assess how these views can be aligned. It is vital to understand these differences, and events like this are an important part of the process towards achieving understanding and alignment. We look forward to seeing the insights that will be shared at the conference.
Rishabh Jain, Senior Programmes Lead CEEW, stated "A robust EV safety ecosystem is the most crucial element as India tries to electrify its automobile sector. Multiple stakeholders, including government departments – at the national and sub-national level – vehicle and battery manufacturers, labs and academic institutions, need to come together to not only design standards but also implement them in full spirit. Upskilling of the workforce and development of design, testing and implementation infrastructure will be critical for the safety of EVs. Only through a regular consultative process between the industry and government, India will be able to make the EVs safer and accelerate the process of decarbonisation of its transport sector."
###
UL Standards & Engagement is a nonprofit organization that translates safety science into action through standards development, partnerships and advocacy. Since 1903, we have developed nearly 1,700 standards and guidance documents for products ranging from fire doors to autonomous vehicles. ULSE enables innovation and grows trust by convening experts and informing policymakers and regulators as we work toward a safer, more secure and sustainable future. Visit ulse.org for more information.
Contact
Lakshmi Nair
International Standards Engagement Manager